Their CC 8800-1 crawler crane is a 1600-tonne capacity, which makes it a pretty big beast in the crane jungle but not that special any more. When it first came out more than 10 years ago now it was quite a thing, but heavy lifting technology is a fast moving world, driven by demand for ever bigger wind turbines and the desire to fabricate ever bigger petrochemical and oil refinery installations on the ground and then lift them into place.
So in 2010 Terex came up with the CC 8800-1 Twin, using two lattice booms in parallel – here's the Twin, picture below.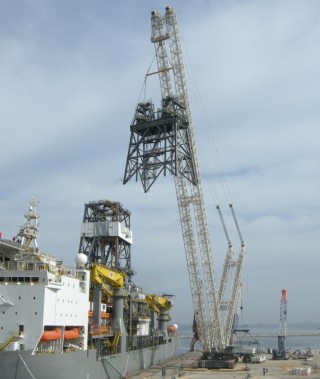 This doubled its maximum capacity to 3,200 tonnes and gave it a maximum load moment of 43,900 metre-tonnes – not quite double the 26,160 metre-tonnes of the original machine.
Now it has come up with another variant: the Terex Boom Booster kit, which can be retrofitted onto existing CC 8800-1 cranes. (I just had to re-type that. I accidentally wrote Boob Booster, but that would be a different thing entirely...)
The new Boom Booster (...written carefully this time) increases the CC 8800-1 crane's lift capacity by up to 90%, enabling it to outlift any crane within the 1,000 to 2000 tonne capacity range, Terex claims, and even outlifting 3,000 tonners under certain conditions.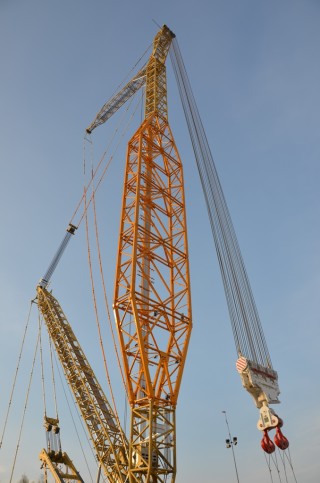 The Boom Booster kit offers up to 72m of lift-enhancing boom structure using a pin connection design that eliminates bolts. The wedge-shaped, 11m long lower and upper adapters flare out to a 10m width – nearly three times the standard 3.5m boom width – to enhance the system's structural integrity. Five 10m long intermediate segments offer the ability to add 50m of reach.
"No other lift enhancing equipment on the market offers the balance of increased lifting capacity and low economical transport costs than the new Terex Boom Booster," claims product marketing manager Guntram Jakobs. "This new Terex boom configuration option will give a big boost to the customers' results in the field."