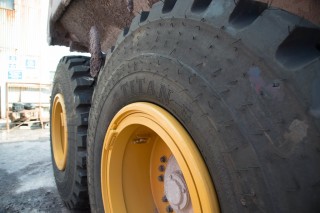 The LSW tyre has entered the UK market with claims of a more stable and smooth off-highway ride. It has a lower aspect ratio and smaller sidewall than a standard tyre, resulting in an increased wheel diameter with no increase in the outside diameter of the tyre.
This concept has already proved successful in the automotive market, but Titan has adapted it for more demanding construction machinery applications. The result, according to Titan, is less side-to-side movement and thus improved vehicle stability.
Lindsay Hart, European tyre sales manager for Titan, explains: "Our global heritage and expertise means we know that construction tyres must live or die by their contribution to overall plant productivity. On-site productivity is, of course, a crucial factor at any plant and the LSW tyre puts the driver at an advantage with increased ride quality, breakout force and handling, allowing them to perform their job more confidently. This is especially fundamental to quarry and mine-sites that are often subject to harsh environment and weather conditions."
In June this year, a Volvo A40F articulated dump truck owned by plant hire company D Wardle was one of the first construction vehicles to be fitted with the 29.5R34.5 LSW wheel and tyre assembly in the UK. It is working at a slate quarry in Wales.
A second set was fitted to a vehicle owned by Midland Plant, initially operating at a tungsten and tin mine based in the south of England where the terrain was extremely tough and demanding.
Titan service dealer T&C Site Services fitted the tyres and took the lead on testing them over the course of the trial period.

"Early feedback received from the drivers was positive, who observed markedly better stability and smoother ride around their respective worksites," says Lindsay Hart. "Meanwhile, the plant managers were extremely impressed with the speed and ease of replacement, which ensured the limited downtime of the vehicles.
"The plant hire companies are set to operate the vehicles as usual over the coming months, with our newly fitted LSW assemblies. We have incorporated regular monitoring into the trial site schedule, in which tread depth, and inflation pressure will be measured, along with a visual inspection of the tyres to ensure optimum performance.
"We anticipate some fantastic results from both sites, and are looking forward to seeing the testing reports from T&C Sites Services, which will continue to monitor the performance and durability."