We are often sent photos featuring machines in unusual colour schemes, which is something I find quite interesting myself. This photo was taken by our good friend and regular blog reader Chris Beckingsale. Chris spotted this Cat 312C hydraulic excavator painted in a stunning green livery whilst he was out and about in the Peterborough area.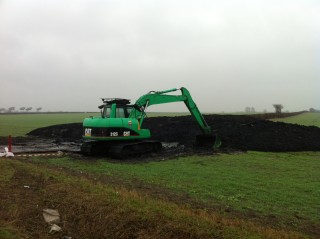 Chris wasn't sure who it was owned by, but it might possibly be one of the environment agency's machines?

If any readers spot something unusual on their travels we want to hear about it here on the blog, so why not drop me a line with your photos and see your material live here on Digger. And don't forget you can find us on Facebook and Twitter too.