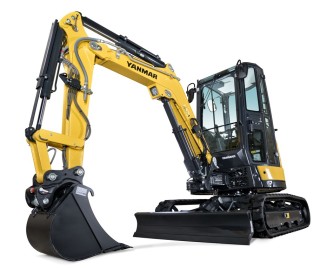 The Yanmar ViO26-6 (pictured above) is a 2665 kg machine aimed specifically at the hire industry, whereas the ViO27-6 (below), a little heavier at 2745 kg, is designed more for the end user. Both machines have key features from the ongoing Yanmar -6 excavator upgrades.
You'll find several noticeable differences compared to the old ViO25, not least of which is a new, improved work station in the cab, complete with digital display screen. There's also more floor space, new travel pedals, a second speed on the blade lever and a more comfortable seats.

Performance specifications such as dig depth and dump height are also enhanced on both models, thanks to a redesign for the undercarriage. The increased width and new X-shaped design has not only improved travel performance but also makes the ViO26 and 27 more stable.
Yanmar dealer A&Y Equipment report that users so far have commented on the quick cycle times. Yanmar has improved each of the powerline components (engine, hydraulic pump, distributor) meaning no compromise between power and compactness. A flow sharing hydraulic system, made up of a variable-flow piston pump and a load signalling flow share distributor makes combination movements simpler and smoother than on previous models.