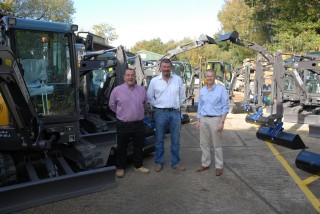 Hire Direct Plant & Tool has bought seven Volvo EC15C excavators and fourteen Volvo ECR25Ds from Rugby-based dealer SM Plant.
Managing director Mark Evans decided to to invest in additional equipment after seeing a significant improvement in the demand for hire.
That's Mark Evans in the picture above, on the left, with SM Plant's Simon Milligan in the middle and Volvo's dealer development manager Guy Adam on the right.
Hire Direct Plant & Tool bought its first Volvo minis in 2009. "The ECR48s we purchased back then are still in our hire fleet and have given exceptional service," says Mark Evans. "As we were in the market to add additional machines to our 120-strong excavator fleet, Simon Milligan and his team from SM Plant supported by Volvo were on hand and willing to put an attractive package together. The combination of the original machines' performance and the attention given to our needs won the business," he continues.
In particular all of the fourteen 2.5-tonne zero swing mini excavators have been equipped with Enigma E touch immobilisers to reduce the risk of theft. To be accepted on sites operated by some of the larger civil engineering contractors, the machines have also been fitted with 'Klac' double locking manual hitches.

As Mark Evans explains: "The French-produced Klac quick hitch with its unique double locking device does away for the need of a safety lock and is therefore accepted on the larger sites many of our clients subcontract into."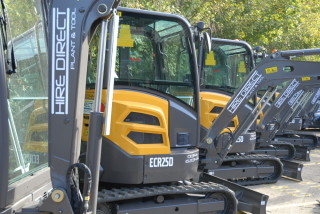 The ECR25D, pictured above, is a relatively new model in the Volvo compact excavator range replacing the previous ECR28 zero swing machine and is powered by a 1.1 litre low emission engine developing 21hp. With an operating weight of 2.5 tonnes the ECR25D is available with a choice of short or long dipper arm giving a reach of either 4.48m or 4.77m and a dig depth measuring from 2.67m to 2.96m.