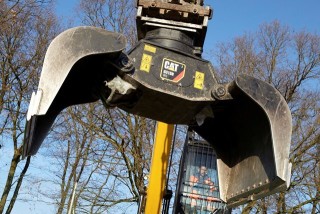 The Cat G315B WH waste handling grapple is designed for hydraulic excavators with operating weights ranging from 15 to 22 tonnes.
The new grapple is an addition to the Cat G300 Series and – according to Cat – is designed to handle large volumes of low-density material, such as plastic and foam products.
"The addition of the G315 WH grapple expands our current work-tool offering to the growing number of businesses in waste handling and recycling," says Dick Hermann, commercial manager at Caterpillar Work Tools BV.
"We believe this addition, coupled with our technical and application expertise, will continue Caterpillar's leadership as a global supplier for excavator and wheel-loader attachments. We look forward to providing our customers with enhanced value in support of their waste-handling and recycling tasks."
Shell capacity of the G315 WH grapple is 800 litres. There is a top plate for mounting an adapter bracket, which allows the grapple to be swapped between carriers. Cat excavators have pre-programmed hydraulic settings to accommodate G300 Series grapples.
The G315B WH has hydraulic 360-degree rotation with a locking device for safe transport.
Maintenance panels provide access to main components for weekly servicing and lubrication. Replaceable, abrasion-resistant cutting edges are standard.
G315B WH Specifications

Excavator class

15-22 tons

Dimensions - Length

2200 mm

Dimensions - Width

1100 mm

Dimensions - Height

1455 mm

Capacity

800 l

Weight (excluding mounting bracket)

1450 kg

Closing force

50 kN

Pressure – Open/close (max.)

350 bar

Flow – Open/close (max.)

90 l/min

Pressure – Rotation (max.)

140 bar

Flow rotation (max.)

40 l/min