The plant hire division of the highly successful and multi faceted company WH Bond Ltd, have just taken delivery of their first batch of Caterpillar 308E 8 ton class excavators. Commenting on the decision to opt for the new Cat machines, Andy Pearce the company's Business Development Manager said, "Having read some very good reviews and write ups regarding the 308E, including one here on the Digger Blog, we decided to look into this model in more detail and quickly realised that the machine also benefitted from a high standard specification"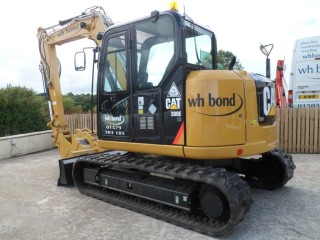 WH Bond's Plant Manager Steve Courts, was also keen to heap praise on the latest additions to the company's comprehensive fleet. "As a worldwide brand Cat is simply second to none, and this will help us hugely when the time comes to sell the machines on in terms of resale value".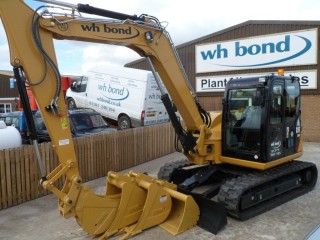 Steve continued, "We are always striving to offer our customers the latest and best kit on the market, and in addition we found the pricing of the new Cat's to be very competitive, as such we figured we would give the Caterpillar machines a go, and a good deal was struck with Finning through our regional area salesman Steve Benetto."

With the first 3 machines having already joined the WH Bond fleet, and a further 6 to be delivered over the coming weeks, I expect to be seeing a number of these machines working on sites here in the Westcountry shortly, hopefully one will make it onto one of the jobs I am working on and I can get to spend a bit more time on the sticks.
The Digger Blog briefly got hands on with the 308E at Caterpillar UK's Desford facility earlier this year, and you can find out more about the machine by clicking on this link.
We would like to thank Andy Pearce and Steve Courts of WH Bond's, and Digger Blog reader Daniel Hall who gave us the heads up on this story.