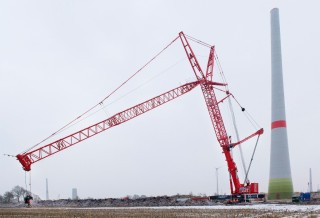 Hartinger and Enercon each sent out their massive Liebherr LTR 11200 cranes for the Saterland wind farm that is currently being built near Papenburg in Germany.
The LTR 11200 was designed especially for this kind of work but it is unusual to see two on the same job. Lifting capacity is 1200 tonnes at 2.5m radius. The upper section, including boom system, is from a large Liebherr all-terrain telescopic mobile crane. The carrier is from a big crawler crane, with special narrow tracks for moving over the narrow roads of the wind power parks.
With the main boom retracted (to give a lower centre of gravity), a 54m luffing jib and 182 tonnes of ballast, this huge crane can move between two wind farm sites within a few hours without having to be dismantled. The time savings are enormous. Each crane move saves the three or four days normally required to dismantled and erect a lattice boom crane of this size.
The LTR 11200 operated by the wind turbine manufacturer Enercon is responsible for the erection of the bottom section. This crane has a seven-section telescopic boom and a short erection jib which can hoist concrete components weighing up to 128 tonnes.
When the turbine tower reaches about 30m high it is joined by the LTR 11200 operated by crane contractor Karl Hartinger. Hartinger uses this crane on the site with a three-section telescopic boom and a luffing lattice jib. This configuration is good to erect the turbine towers up to a height of 105m, hoisting maximum weights of 70 tonnes. If a single crane were to erect the complete concrete tower on its own, its luffing jib would have to be erected and dismantled continuously and its ballasting would require constant changes.
Every square metre under the heavy crawler chains must be able to withstand a ground pressure of 26 tonnes. A telehander sunk in the bog away from the main area reminds the team to stay alert when travelling.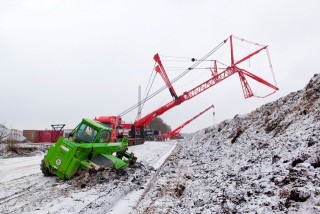 The track is also inspected for cracking as the cranes pass over it. It takes about two hours for the crane to move 1km.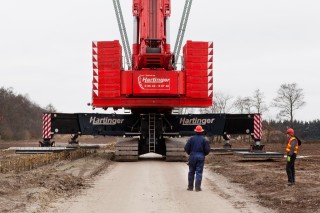 For safety the crane is moved with the outrigger supports extended, with support plates attached. These hover close to the ground to prevent any unexpected sudden toppling – and I gather they have occasionally proved their worth.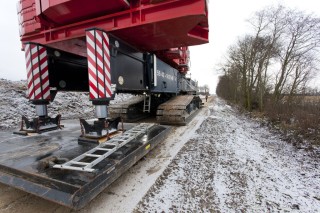 If the access is not great or underground pipes reduce load bearing capacity of the road, the crane can be quickly stripped down, with luffing jib and 100 tonnes of ballast removed in just a few hours.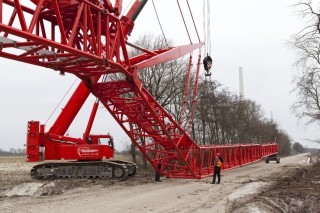 The Liebherr factory engineers have also helped out on this job, reprogramming the cranes' computers to allow the concrete components to be hoisted in wind speeds of 15 metres per second, rather than the usual limit of 11m per second.