Part of the task set to Barnesmore involved excavating a whole storm water attenuation tank located under the proposed car park site, then backfill with high quality materials, suitable for the tarmac to then be laid on top for the car park.
The ground conditions were 0.6m of sandstone overlain by 2.5m of clays. The high clay content was unsuitable to use with a traditional track screener, the conventional method. Clay is extremely problematic to screen and would have created a blockage on the machine. Added to this, the March weather meant there was a high moisture content in the ground. Barnesmore was looking at carting off the excavated material to landfill and buying in fill material to the correct specification required.
Barnesmore Construction Director, Paul O'Donnell explained the business is committed to reducing landfill, disposal costs and maximizing material recovery. He contacted Worsley Plant, who suggested that the best tool for the job would be a Remu Hardox Star Screening Bucket, due to the nature of the clay material, the Remu bucket allowed the material to be screened down to the correct spec, this could then be used to refill the car park site.

This has allowed an impressive 80% of the recovered materials to be reused, leaving only a potential 20% set to be taken off site to landfill. However, Paul was so impressed with the bucket, that he then arranged to hire a Dig A Crusher MB BF 60.1 to complete the job which allowed the remaining 20% to be turned into aggregate for reuse on site.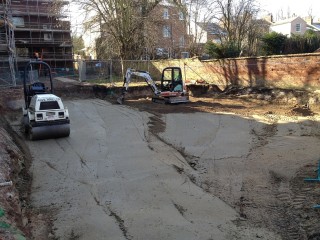 When asked about the project Paul O'Donnell explained: "The use of the Remu Screening Bucket and MB Crusher Bucket on this project has been a tremendous success. We are extremely impressed at their versatility and they are ideal for this project. We will definitely be using them again in the future. Working with Worsley Plant has been a pleasure and their expert advice and comprehensive product range has allowed us to complete this project with significant time and cost savings, not to mention the environmental savings involved in 100% recycling of materials."