The sun shone for most of the day and there were more than 200 visitors of all ages, with many of them from local colleges.
This is the second consecutive year that Hawk have organised the event and board director Paul Allman was delighted with how the day went.
"The open day gives us the opportunity to showcase the products and services within the group while giving visitors a day which is both interesting and entertaining in equal measure," he says. "It has been a fantastic day and great to see so many new and existing customers, as well as the next generation of construction professionals."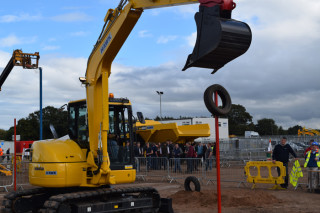 The open day featured a number of hands-on activities for visitors including a tractor-driving obstacle course, machinery test drives and a series of challenges designed to test operators. There was also a room dedicated to careers at Hawk and several of the visiting college students took the opportunity to sign up for the Hawk apprenticeship scheme.

Reaseheath College in Nantwich took three minibuses full of students to the Hawk open day. Stephen Burns, Reaseheath's instructor in engineering, said: "All the students said they had a fantastic day and really enjoyed getting to operate the various types of construction equipment on offer, especially against the clock! The careers room was also of great interest and value to the students. It was an extremely useful and informative day for all and we're looking forward to next year's."