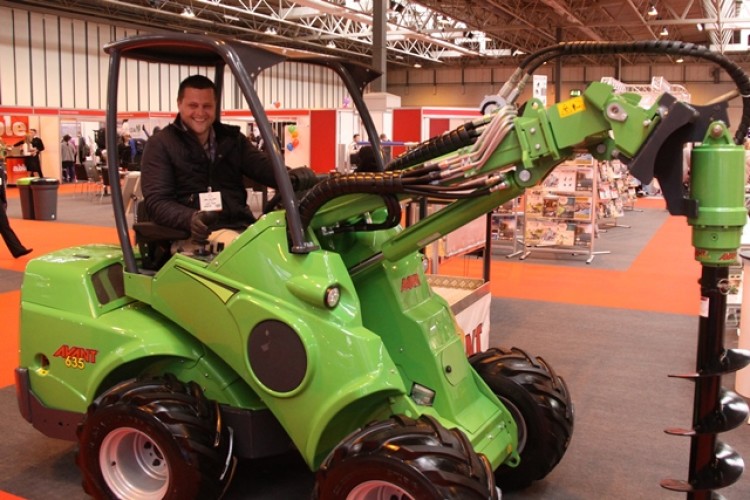 Avant has designed a compact tool carrier for operators with impaired functionality in their limbs. It was launched at the Naidex 2017 disability trade show in Birmingham.
The Avant compact loader can be controlled and driven forward and reversed directly from either control mechanism. Because the drive can be operated with the thumb on the joystick, the driver can manoeuvre and control the movements of the boom at the same time. This makes it possible also for paraplegic people to make full use of the machine.
Joining the Avant team at Naidex was para-equestrian carriage driver Jamie Williams who has been paralysed from the waist down since breaking his back 10 years ago. He has learnt to manage his team of six horses on a daily basis but until the arrival of a Hand Drive Avant 528 compact loader he needed help around the yard .

"Having the new Hand Drive Avant 528 compact loader on the yard has changed my life," he said. "Now I can do 90% of the yard tasks myself, the Avant has given me my independence back."
He added: "Before, I was unable to push a wheel barrow or move shavings but now I can at the push of a button. The Avant enables me to do normal jobs quickly and effectively, like cleaning out the stables and adding fresh, new bedding. The Avant is just the right size, it fits into every stable and around the yard perfectly."
Avant UK managing director Raimo Ala-Korpi said: "We got the idea for the hand drive control from our customers some years ago, we wanted to design a loader that would be easy for those people who don't have functionality in their legs or had weakened ability. Through launching this hand drive loader series we hope to help improve people's independence and create freedom."
Got a story? Email news@theconstructionindex.co.uk