Colmore Tang visited its office-to-residential conversion projects in Dudley, Worcester and Birmingham City Centre, as well as the newly-opened Park Regis Hotel in Birmingham, on Thursday 14th April.
The mayors of Worcester, Dudley and Birmingham joined with representatives from Colmore Tang Construction for the ceremony at each respective location.
The four projects are the first sites to be completed by the three-year-old Birmingham-based firm.
In Birmingham, Park Regis is the city's newest four-star hotel and the brand's first in Europe, having seen £50m of investment to transform 1960s office building 'Auchinleck House' into a hotel. Elsewhere in Birmingham, Colmore Tang  has converted Metropolitan House at Five Ways into 270 apartments in a development now called No.1 Hagley Road.
The Landmark in Dudley has seen the former Waterfront offices at Merry Hill converted into 181 luxury new homes, while Bridgwater House in Worcester has seen the transformation of the former Midlands Electricity Board building on Blackpole Road into 75 apartments.
Colmore Tang Construction managing director Andy Robinson said: "We believe this is the first time that a contractor has topped out four sites in one day. We've been on a mad dash, sticking to a very strict schedule, visiting each site and celebrating with each of the mayors and members of the Colmore Tang team. It is very rare that four projects would near completion all at the same time.
"These sites are very close to our hearts as they are the first major projects that we embarked on, not something to be entered into lightly. Our team has done a tremendous job in getting these four large developments completed on time and to budget. We are immensely proud and pleased that we could deliver such quality for our clients."
Here's each ceremonial photocall, with mayors and Colmore Tang folk: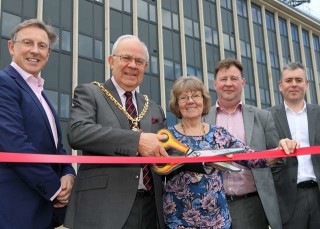 At Bridgewater House are (left to right) Andy Robinson, the Mayor & Mayoress of Worcester, Andy Conroy and Shaun Lyons
At No.1 Hagley Road are Andy Robinson, Cllr Raymond Hassell, Andy Conroy and Shaun Lyons
Here's the same foursome in the same order at Park Regis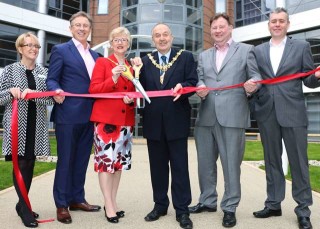 And finally, at The Landmark are (left to right) Clare Osmon, Andy Robinson, the Mayoress & Mayor of Dudley, Andy Conroy and Shaun Lyons
Got a story? Email news@theconstructionindex.co.uk