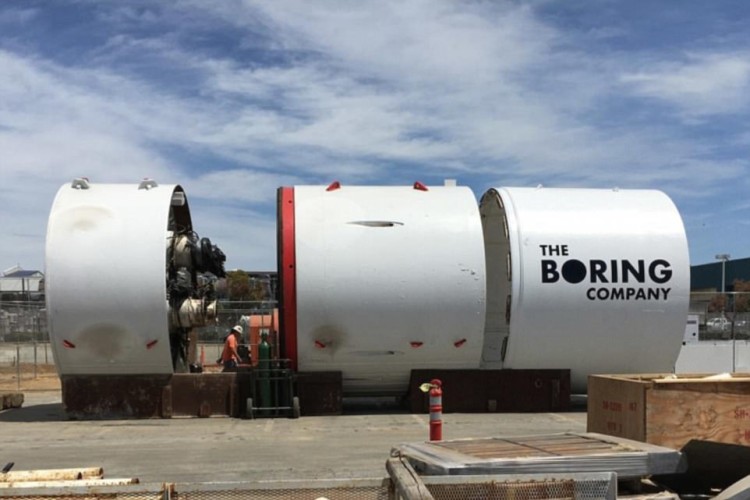 The other team is O'Hare Xpress, made up of long-established businesses Meridiam, Antarctica Capital, JLC Infrastructure, Mott MacDonald and First Transit.
Chicago's mayor Rahm Emanuel has announced the selection of two teams to proceed with competing to design, build, finance, operate and maintain the O'Hare Express operating system. The Boring Company and O'Hare Xpress will be eligible to respond to a request for proposals (RFP) that will be issued on Friday by the Chicago Infrastructure Trust (CIT). The project aims to deliver an express service from downtown Chicago to O'Hare International Airport (ORD) in 20 minutes or less, cutting more than 50% off current travel times.
In response to the announcement, Musk tweeted: "Maybe there should be 2 providers for Chicago advanced transit. Monopolies are so boring..."
The Boring Company was set up in late 2016 with the goal of increasing tunnelling speed and dropping costs by a factor of 10 or more. "To solve the problem of soul-destroying traffic, roads must go 3D, which means either flying cars or tunnels," says the company. "Unlike flying cars, tunnels are weatherproof, out of sight and won't fall on your head. A large network of tunnels many levels deep would fix congestion in any city, no matter how large it grew (just keep adding levels)." It sees dropping costs and increasing speed as the key to making this happen. The company identifies reducing tunnel diameters as one of the key ways of dropping costs. It also says that current tunnel boring machines (TBMs) as being very slow. "A snail is effectively 14 times faster than a soft-soil TBM," it said.

"Strengthening connections between Chicago's economic engines will drive our economy into the future, build on the city's legacy of innovation and pay dividends for generations to come," said Emanuel. "Today, we have two teams that have the ability to get the job done and create an express connection between downtown Chicago and O'Hare Airport without a taxpayer subsidy."
The Boring Company and O'Hare Xpress are two of the four entities that responded to a request for qualifications (RFQ) that was issued late last year. Responses to the RFP will be due on 18 May.
"Of the submissions received, these two teams represent the best potential partners to deliver this express service, which will be a key part of Chicago's continued economic growth," said Chicago treasurer and CIT chair Kurt Summers. "The CIT's role as a specialised resource to the City focused on infrastructure financing and development involvement makes it the clear choice to take a lead as we seek a partner for this truly transformative and historic project."
Although cost estimates for the project are not yet known, the RFQ and RFP clearly stipulate that the O'Hare Express Service will be funded solely by project-specific revenues (like fares or advertising) and financed entirely by the developer.
Got a story? Email news@theconstructionindex.co.uk