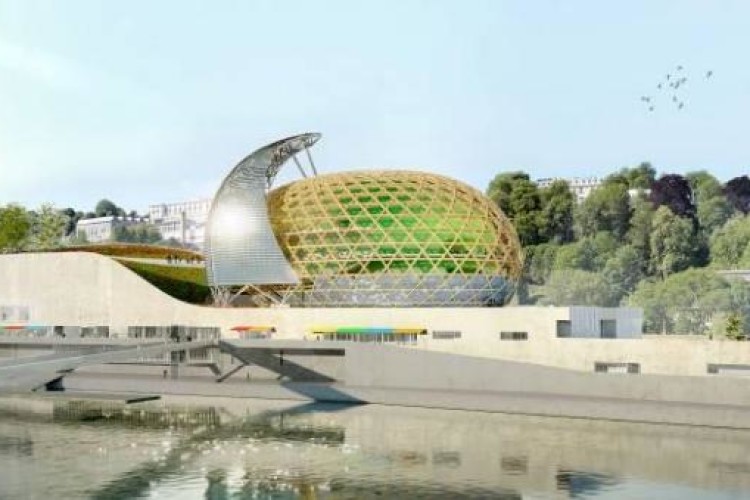 Bouygues will work with Sodexo, TF1 and OFI InfraVia on the public-private partnership contract to finance, design and build the 36,500m² City of Music development on Seguin Island in Boulogne-Billancourt near Paris.
The project will create a new cultural facility dedicated to all forms of music. It will also be maintained for 27 years under the contract.
The complex, which is designed by architects Shigeru Ban and Jean de Gastines, will combine concert halls, spaces for music teaching and training, recording studios, a seminar centre, restaurants and shops. In particular, it will incorporate a large hall with between 4,000 and 6,000 seats devoted to modern music and a 1,100-seat auditorium dedicated to classical and contemporary music.
The auditorium, with its shell made of braided wood, has been designed so that it appears to float upon a mirror of water. A large sail bearing more than 1,000 m² photovoltaic solar panels, surrounding the auditorium, will follow the path of the sun. Standing tall over the river, the City of Music will also provide a promenade area open to the general public.

Bouygues Bâtiment Ile-de-France, a subsidiary of Bouygues Construction, will be responsible for the design and construction of the City of music. The works will begin in March 2014 and conclude in June 2016. At peak periods 500 employees will be working on the site.
Philippe Fabié, deputy chief executive officer of Bouygues Construction, said: "Bouygues Construction's strategic positioning is to propose comprehensive offerings that respond to the increasingly complex expectations of customers and communities. We do this by calling upon all our internal skills but also external partnerships formed with the shared ambition of being committed over the long term to fulfilling public needs."
TF1 and Sodexo are involved in the project to provide the management and operation of the City of Music. The principal shareholder in the consortium is OFI InfraVia, a specialised infrastructure investment fund.  
Got a story? Email news@theconstructionindex.co.uk