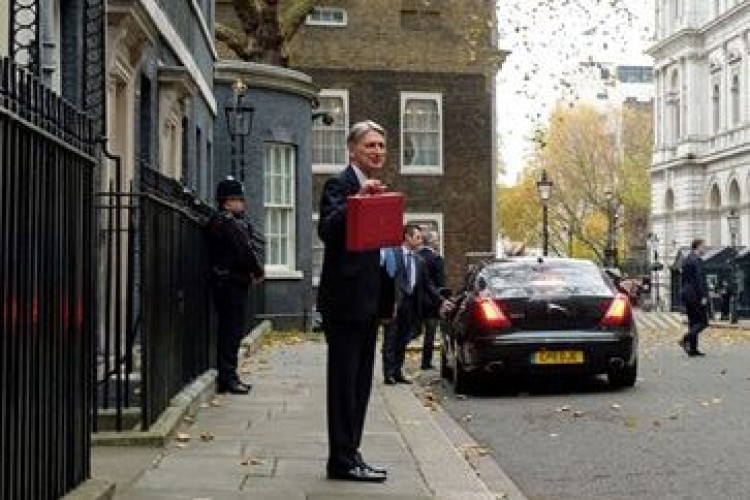 Chancellor Philip Hammond has delivered a 'budget for builders' that should allow small builders to deliver more of the new homes Britain so badly needs, according to the Federation of Master Builders (FMB).
Commenting on the Budget 2017, FMB chief executive Brian Berry said: "The government has set itself a new target of building 300,000 new homes a year by the mid-2020s. And the chancellor has put small and medium-sized builders at the heart of ambitious plans to tackle the growing housing crisis. The chancellor appears to be putting his money where his mouth is with the announcement of £44 billion of capital funding, loans and guarantees. In particular, a further £1.5 billion for the Home Building Fund to be targeted specifically at SME housebuilders can play a significant role in channelling crucial funding to this sector. A £630 million fund to prepare small sites for development and proposals to require councils to deliver more new housing supply from faster-to-build smaller sites will provide opportunities to boost small scale development."
Mr Berry continued: "A second major challenge to getting new homes built is the skills crisis we face. In the long run, the only real solution to chronic skills shortages will be a major increase in the training of new entrants into our industry. We are therefore pleased to hear the chancellor has committed extra resourcing to training for construction skills. With Brexit round the corner the next few years will bring unprecedented challenges to the construction sector. The government will need to make sure that the sector continues to have access to skilled EU workers, but we are pleased that the chancellor has listened to the needs of SME builders".
The abolition of stamp duty for most first time buys was greeted warmly by some – and less enthusiastically by others.
David Thomas, chief executive of house-builder Barratt Developments, said: "We welcome the government's continued focus on housing, the stamp duty cut will help more young families get a foot on the property ladder and further planning reform is vital to increasing housing supply – overall this is a positive budget putting housing front and centre where it belongs."
Keepmoat Homes chief executive James Thomson said: "Our priorities for this budget were affordability and the supply of homes for young people. The pre-announced £10bn for Help to Buy was essential, but our expectations have been exceeded with the generous abolition of stamp duty for first time buyers. This removes a huge potential barrier."
He added: "Local authorities are potentially a significant source of additional homes of all tenures through development partnerships. Development funding for them could make a huge difference to supply. Most important is the relaxation of HRA borrowing restrictions for those in high demand areas. Borrowing has been the biggest single issue and this measure makes councils far less dependent on the combination of finance that can be raised through private sector partners and the pots of funding announced recently by the government."
James Knight, head of residential at Arcadis, said that the problem with the abolition of stamp duty was that "it could maintain and increase house prices – is this fixing the market?"
He reckons the real problems lie elsewhere: "The gap in numbers between planning permissions and housing starts is often down to additional red-tape and bureaucracy created in Section 106 agreements and pre-commencement conditions. The government needs to focus on reducing this burden."
There was also some reaction to the chancellor's Miliband-esque 'use it or lose it' threat to house-buildings sitting on planning permissions. Cathy Searle, a partner at city law firm DMH Stallard, said: "It is difficult to see how the threat to compulsorily purchase land banked by developers would work in practice. The most obvious question being how would this be financed?"
The threat also predictably wound up  the house-builders' lobbyists. Stewart Baseley, executive chairman of the Home Builders Federation, said: "As has been proved by numerous independent investigations in the past, house builders do not land bank. House-builders have nothing to fear from a review of land banking and if it identifies non house-builders who are sitting on land and brings that forward for development it would be a positive move. Any review should also focus on why so many plots that some suggest are in a builder's 'land bank' are mired in the planning system and identify ways to process them more quickly so they can actually be built."

Several people had hoped for a specific boost for offsite construction. Tom Shaw, director of consulting engineer Ramboll, said: "There were a number of new positive measures announced for housing in the budget, but what was disappointing was the lack of specifics that would encourage the construction industry to embrace offsite techniques. Increasing housing supply to 300,000 per year requires offsite construction methods – without it we have no chance of meeting these targets by 2025."
Scape Group chief executive Mark Robinson said: "Greater use of modular and offsite housing solutions will be an essential part of increasing output, but there was no mention of this, which is a missed opportunity."
However, supporting documents released later revealed the extend of the government's commitment to promoting offsite construction: "The government will use its purchasing power to drive adoption of modern methods of construction, such as offsite manufacturing. Building on progress made to date, the Department for Transport, the Department of Health, the Department for Education, the Ministry of Justice, and the Ministry of Defence will adopt a presumption in favour of offsite construction by 2019 across suitable capital programmes, where it represents best value for money."
The Civil Engineering Contractors Association (CECA) liked that the chancellor gave his backing to the National Infrastructure Commission's report on the Cambridge-Milton Keynes-Oxford corridor, to construction training and to house-building. But it felt there were some important omissions. "While today's budget is a solid commitment to growth, we are disappointed that there is not more news on the Crossrail 2 talks, and we will continue to work with government and Transport for London to help unlock this world-class project, to generate much needed capacity across the southeast," said CECA director of external affairs Marie-Claude Hemming.
Gleeds Worldwide chairman Richard Steer said it was a good effort by the chancellor but not good enough. "There were three key challenges facing the chancellor in a budget which was delivered against a background of Brexit and a substantial decline in growth forecasts which threatened his tenure. Housing, infrastructure and productivity announcements were the Holy Trinity designed to save his job," Mr Steer said. "Abolishing stamp duty for first time buyers is welcomed, as is some form of planning reform but there was a meagre sum mentioned for training and throwing money at the housing crisis will not solve the labour shortage or skills crisis. Infrastructure investment is also welcome but we need concrete timelines rather than further hollow promises. Productivity is a complex issue and his comments on the role of digital enablement underlined that, as an industry, we need to help ourselves but again, short term improvement is linked to a guaranteed labour pool and Brexit has caused a stampede of trades out of the UK, something this government has exacerbated through their dithering. A stalwart attempt but not enough to instill confidence as we crash out of Europe."
The Chartered Institute of Building also had things to say. Eddie Tuttle, associate director for policy, research and public affairs, said: "The various packages of funding to support the building of more homes – and importantly higher quality homes – is welcome. But it's not clear how the £44bn of capital funding, loans and guarantees to support the housing market will be spent. Underwriting borrowing and giving housebuilders guarantees is no substitute for delivering high quality, affordable homes of all tenures.
"We are pleased that the chancellor has listened to the industry on skills provision: research has shown that labour supply has been the biggest source of capacity constraint for the construction industry over the past 15 years. Boosting the quality and quantity of the construction labour force is critical to deliver the homes and infrastructure that the country needs, so the £34m construction skills fund is a welcome policy. However, this will need to be bolstered in the future and further supported by the private sector given that a fifth of the construction workforce is due to retire in the next decade.
"Finally, the CIOB is delighted to see that £170m has been provided over the next three years for innovation to transform productivity in the construction sector. Alongside the announcement that the government will use its purchasing power to drive adoption of modern methods of construction, such as offsite manufacturing, we are pleased that the need to improve construction productivity is being widely recognised and starting to be addressed."
Spencer McCarthy, chairman and CEO of Churchill Retirement Living, was left mightily underwhelmed though and felt his sector was being wrongfully neglected for state aid. "After all the talk beforehand, the budget is a huge disappointment, and sadly it's all too predictable from Mr Hammond. The changes he's outlined will make very little difference to our broken housing market, and he's missed the opportunity to shake things up and do something really positive.
"The government is still focusing far too narrowly on one end of the housing market. When will they realise that the only way to improve things is by looking at the full range of housing supply? Of course it's important to support younger people, but stamp duty exemption for first time buyers is just an attempt to win votes and won't do anything to fix the market's wider problems. We also need to help more older people to downsize – this would spark a positive chain reaction across the whole housing market.
"We urgently need some form of Help to Buy-style equity loan for older people who may need to bridge the gap or free up equity when purchasing a new retirement property… Up to a third of older people – around three million over 65s – are interested in downsizing, but only 186,000 retirement properties are available to buy across the entire country."
Got a story? Email news@theconstructionindex.co.uk