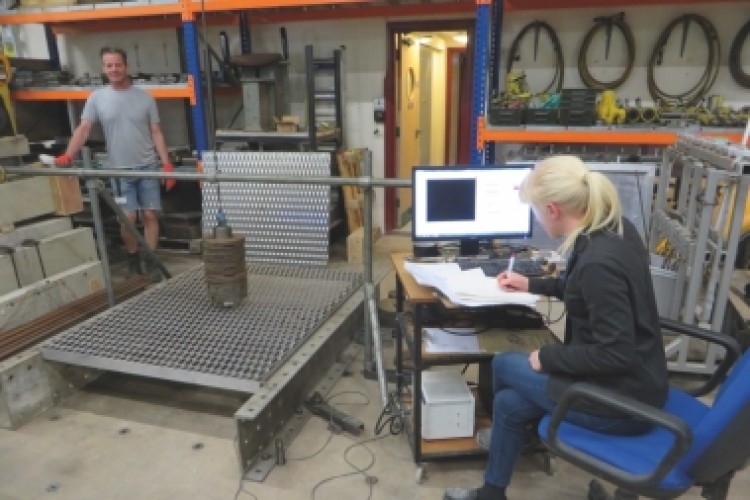 Newtecnic and the Engineering Department at the University of Cambridge have completed a three-year knowledge transfer partnership but the work is continuing at Newtecnic's recently established Cambridge R&D office. It is also working with US universities.
The Cambridge partnership addressed the need for new building products and manufacturing and installation methods for complex building envelopes.
Newtecnic says that it has enabled innovation in design and testing of components and connections for fibre-reinforced and ultra-high-performance concrete facades on real building projects. These include the Zaha Hadid designed Central Bank of Iraq and Grand Theatre de Rabat, Istanbul's City Museum designed by Salon Architects, as well as other projects in Turkey, Algeria, and Saudi Arabia.
The research covered: fast nonlinear analysis (FNA), finite element analysis, design assisted by testing, bonding of structural elements, wind tunnel procedures, glass structural design, fatigue due to wind action, localised stress concentration, concrete static fatigue and testing of connections. Workflows and methods for testing have now been developed for these factors.


Newtecnic chief executive Andrew Watts said: "By applying peer reviewed academic rigour to the development of new methods for testing concrete facade components, assemblies and connections, our objectives have been fully met. Investing in three years of intensive research means we can now very quickly apply standard tests to understand and verify components for fatigue and wind load over time on any project. This will save time on all existing and future projects. With this new system of advanced processes, we can efficiently accelerate the productivity of better solutions for advanced, exciting but affordable projects around the world."
Because the knowledge gained through this partnership allows projects to be developed based on the real physical behaviour of components Newtecnic can design engineer more ambitious and complex building enclosures that are lighter, stronger and precisely quality assured.
Dr Mauro Overend, director of the Glass & Facade Technology Research Group at the University of Cambridge, said: "Conducting this work almost exclusively from first principles means that the construction industry now has access to newly discovered knowledge and know-how. This provides opportunities for companies to overcome the limitations of existing standards and to engineer complex freeform building envelopes is a safe and resource efficient manner."
Got a story? Email news@theconstructionindex.co.uk