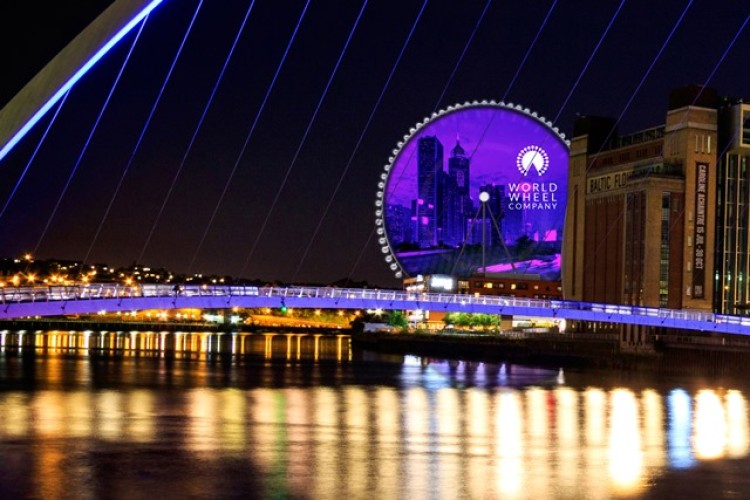 The Geordie Ferris Wheel is dubbed 'The Whey Aye', pronounced 'why eye'. It would stand 140 metres high if actually built, making it five metres taller than the London Eye.
The plans were announced by the World Wheel Company,  a Hong Kong company that has built and operated a 120-metre high observation wheel in Suzhou, China and a 90-metre wheel in Tbilisi, Georgia.
The centre of Newcastle's wheel would be a 10,000 m2 LED digital screen for displaying advertising. It would be the world's biggest advertising screen.
It is proposed that the wheel is built at the east end of the Quayside on the location of the former Spillers' Flour Mill, which was demolished in 2011 and has lain vacant since.
The plans include bars and restaurants, a 9,000 m2 'Giants of the North Experience' visitor attraction celebrating the history of the region, and a sports complex with covered five-a-side football pitches and tennis courts.

World Wheel Company said that it will submit a detailed planning application to Newcastle City Council later this year. It also said that the whole development could be built within two years of getting planning permission.
Phil Lynagh, chief executive officer of World Wheel Company's Newcastle operation, said: "This is without doubt one of the most exciting investment and regeneration projects in the UK, if not the world."
Chief marketing officer Nigel Hartley added: "The World Wheel Company is reinventing the wheel with its unsurpassed combination of innovation and technology to deliver unforgettable customer experiences."
Ex-footballer Alan Shearer said: "I think it would be great news for Newcastle. It's just what the city needs."
Got a story? Email news@theconstructionindex.co.uk