Thirty years ago, road construction was largely about new roads to serve what Margaret Thatcher hailed as "the great car economy". Things have changed a bit since then.
Thatcher's "Roads for Prosperity" programme, which promised a new and improved road network and billions of pounds-worth of work for civil engineering contractors, fizzled out along with her premiership and while subsequent governments also promised massive investment, road construction today is mostly about the maintenance and improvement of the existing network.
That is not to say that road construction is not a major sector. It is currently estimated to be worth anything between £8bn and £10bn a year and has more than 4,000 businesses active in the sector. Accounting for a big chunk of this workload are the big infrastructure contractors such as Balfour Beatty, Costain, Skanska and (until the beginning of this year) Carillion.
However, our analysis is based on the financial performance of those companies that specialise in highways contracting, excluding other multi-disciplinary civil engineering firms that do not report their roads work separately.
The picture that emerges from our sample of 20 roads contractors is of a sector that continues to prosper, despite the uncertainty of the Brexit negotiations and never-ending talk of a decline in construction output.
Admittedly, net turnover increased by a relatively small margin during the past year – up a slender 4.4% to £2.4bn from £2.3bn in 2017. Seven of our top 20 contractors saw workloads decrease over the year.
But net pre-tax profit leapt by almost 30% to £125.6m, suggesting that contractors are working more efficiently than ever – even if, again, seven companies recorded a fall in profits. Only one of them – JB Riney – made a loss and the average profit margin was 4.3%, compared to 3.3% the year before.
The biggest roads contractor by turnover in our table is Eurovia, the UK arm of the French-owned Vinci operation. The group includes numerous operating subsidiaries and joint ventures, and we have included their results in the Eurovia figures.
In the 12 months to 31st December 2016, Eurovia grew turnover by 4.4% – our sample average – to £735m. Around £238m of this is Eurovia's share of its various joint ventures with other contractors.
Ringway, Eurovia's term maintenance business, "moved into a positive profitable and sustainable position" following lacklustre performance the previous year, said chief executive Scott Wardrop. Bill Taylor, Ringway's managing director, sadly died in October 2016 after being diagnosed with cancer the previous year. He was replaced by Mike Notman.
Kier Highways, now incorporating the business of consultant Mouchel which it acquired in 2015, once again took the number two position on our table with turnover of £428.4m, up almost 10% on the previous year's figure of £389.9m. This increase was mainly due to a greater amount of scheme-related capital works being completed compared to the previous year, the company said.
However, Kier was one of the seven contractors who bucked the trend and saw profits fall in the latest year. The company attributed this to two factors: "increased administrative expenses of £5m as the company invests in its infrastructure to support the future growth aspirations of the company" and "the change of revenue mix arising from the increase in schemes-related capital works which are delivered predominantly through the supply chain". Nevertheless, Kier Highways' £28.9m pre-tax profit was still the largest of all 20 firms on our table.

Third-placed FM Conway, a leading road maintenance contractor, put in a creditable performance in the year to April 2017. Turnover increased only about 2% to £252.5m but profit was up by a third at £23.5m. FM Conway said that its net operating margin of 10% was "the result of the settlement of contracts claims, the investment in our own bitumen facility and state-of-the-art asphalt facilities which benefit from lower operating costs". The company continues to invest, spending £13m last year on new plant and a polymer-modified bitumen production facility.
Colas was the biggest of the seven contractors that saw revenues fall last year. And this was the second year in a row. During 2016, Colas recorded a turnover of £221.4m, down almost 14% compared with 2015's figure of £256.7m which was, in turn, 3% less than the £264m of revenue earned in 2014.
Chief executive Lee Rushbrooke admitted that 2016 had been a "challenging" year for the company and that the decline in revenue was "mostly due to many public clients having reduced levels of spending through their revenue budgets as well as the ongoing challenge for the company of securing contracts in a very competitive market".
This is a familiar refrain – several other contractors also note a reduction in the amount being spent by local authorities on road maintenance. Eurovia's Scott Wardrop also commented that "worryingly, we are seeing many public clients reducing maintenance due to significant reduction in their revenue budgets".
The only contractor to record a pre-tax loss in the 2016/17 period was Birmingham-based JB Riney, which lost £254,000 in the year to April 2017 (2016: £600,000 profit). "The company had a challenging end to the year following the death of its long-standing managing director, Mr JB Riney MBE in December 2016 and the reported profits suffered as a result," the company said in a statement.
The sad loss of its managing director marked a turning point for the company and in May last year the company was bought out by materials giant Tarmac, which was apparently anxious to get a foothold in the London market where other contractors, notably FM Conway, have been able to secure a succession of road maintenance contracts.
Infrastructure investment is dictated by public sector spending policy and while local authority road maintenance budgets have been falling in recent years, the crumbling highways network led to an outcry from road users and safety campaigners earlier this year. The RAC recently declared that 10% of the road network is in a poor condition.
Whether local authorities can find more money for local roads is a moot point, but the government's Road Investment Strategy is expected to maintain spending on the motorway and major roads network through to 2025.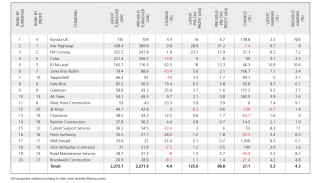 This article was first published in the May 2018 issue of The Construction Index magazine, which you can read for free at http://epublishing.theconstructionindex.co.uk/magazine/may2018/
UK readers can have their own copy of the magazine, in real paper, posted through their letterbox each month by taking out an annual subscription for just £50 a year. See www.theconstructionindex.co.uk/magazine for details.
Got a story? Email news@theconstructionindex.co.uk