Output in the construction industry decreased by 2.6% In January 2015 compared with December 2014, after increasing by 0.6% in December. New work fell by 4.2% while repair and maintenance showed no growth.
Compared with January 2014, output decreased by 3.1%. This was the first year-on-year decrease since May 2013 when it fell by 2.8%. It was a marked decline from 5.3% growth seen in December 2014 compared to December 2013.
Year-on-year, all new work and repair & maintenance fell by 2.7% and 3.7% respectively. Within all new work, private commercial provided the largest contribution to the decrease compared with January 2014, falling by 8.9%. Smaller decreases were reported by infrastructure (-2.4%) and public other new work (-2.3%). The decrease in repair and maintenance was primarily due to total housing repair & maintenance which fell by 7.0%.
Housing output fell by -5.0% on the month in January 2015, moderating the annual rate of growth to 0.8%. On a monthly basis, the fall in housing output was driven by both the public and private components. In contrast, the annual growth rate eased due to a sharp contraction in public housing.
The ONS said that the slowdown in housing output was consistent with a range of external indicators which have shown that both demand and supply side factors may be subduing housing construction. In January 2015, the number of mortgage approvals for house purchase fell by 19.6% from the same month a year earlier.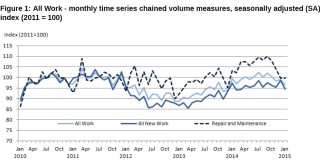 Commenting on the numbers, PwC engineering and construction consultant Chris Temple said: ""Despite these latest figures, we continue to expect the sector to show solid, healthy growth during 2015. As we approach the general election, it is possible that we will see a further temporary slowdown in new orders. However, we don't expect that this will be significant enough to counteract the upward trend of growth for the year and there is still strong confidence in the sector for 2015 and beyond.
"There is a lack of large infrastructure projects at the moment, accounting for the lull in that part of the sector. Furthermore, uncertainty about the economy in Europe has knock-on effects for business confidence and the short-term order books of construction firms.
"There are no indications that this will become a longer-term trend, and our clients are highly optimistic for their growth prospects in 2015. Overall the picture for the construction sector is healthy."

 
Got a story? Email news@theconstructionindex.co.uk