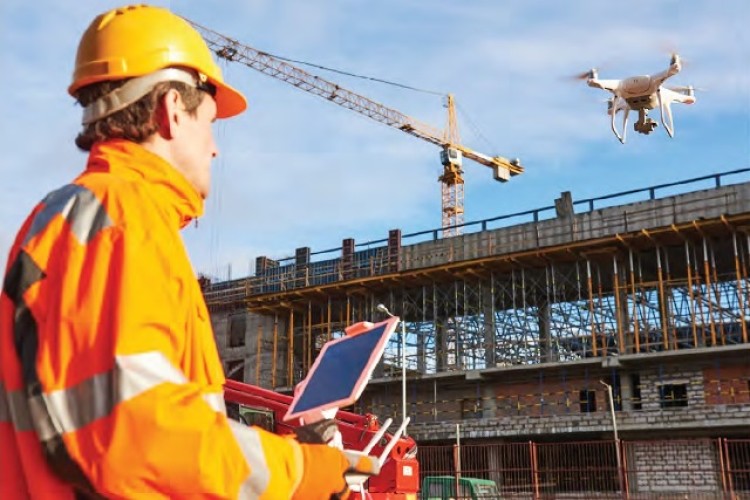 Adoption of drone technology across the construction and manufacturing sectors could generate an £8.6bn boost to UK GDP by 2030, PwC's research indicates.
More than 76,000 drones with flying cameras could be in the UK skies in 12 years' time, with more than 4,800 of these used by the construction and manufacturing sector alone.
In construction and manufacturing, their use could save £3.5bn a year.
The PwC report, Skies without limits, analyses the broader economic impact from drone technology, with a particular focus on seven sectors from manufacturing and construction to transport and logistics. It reveals significant opportunities for economic gains, with the overall uplift in drone usage potentially growing UK GDP by £42bn (or 2%) by 2030.
In the construction sector, the report says, drones are already providing cheap and efficient ways to map sites and track construction progress against schedule and the original design as well as inspecting structures for ongoing wear and tear. They also offer an effective method of collecting three-dimensional information, integrating it with existing building information modelling (BIM) systems.
Rob Walker, PwC's UK engineering and construction leader, said: "Embedding drone flights in the construction lifecycle can provide a compelling 'golden record' of activity and we are already seeing tangible benefits from users. Survey times can be around 400 times faster than traditional methods, costs reduced by as much as 40% and data can be shared via the cloud with multiple stakeholders anywhere in the world. This enables faster decision making, and people can be freed up to focus on higher-value work - and this is just the start of our drone journey.
"As businesses gain experience with this technology, we expect to see more evidence of the accumulation of drone collected data across wider programmes and tighter integration with other sources of management data."
Elaine Whyte, UK drones leader at PwC, added: "Drones have the potential to offer a powerful new perspective for businesses across a variety of industries, delivering both productivity benefits and increased value from the data they collect. The UK has the opportunity to be at the leading edge of exploiting this emerging technology, and now is the time for investments to be made in developing the use cases and trial projects needed to kickstart our drone industry.
"I envisage that the advantages of drone technology will be well established within the decade - not only for business purposes, but also for helping to protect our society, for example, through being used by the emergency services.
"There is a need for current UK drone regulation to advance to see the estimations in our report become a reality, but it's positive to see the government already taking proactive steps to address this with the draft Drones Bill.
"In order to realise the full potential from drones, the immediate focus must be on developing society's confidence in the technology to help drive acceptance and increase adoption. While drones are often currently viewed as more of a toy, by combining this emerging technology with the right business understanding and human insight there is a huge opportunity to help solve some of business and society's most important problems."
Economic impact of drones in the UK (2030)
| | | |
| --- | --- | --- |
|   | Construction & Manufacturing | UK |
| GDP uplift in 2030 | £8.5bn | £42bn |
| Number of drones | 4816 | 76000+ |
| Net cost savings | £3.5bn | £16bn |
| Multifactor productivity uplift | 3.1% | 3.2% |
Got a story? Email news@theconstructionindex.co.uk