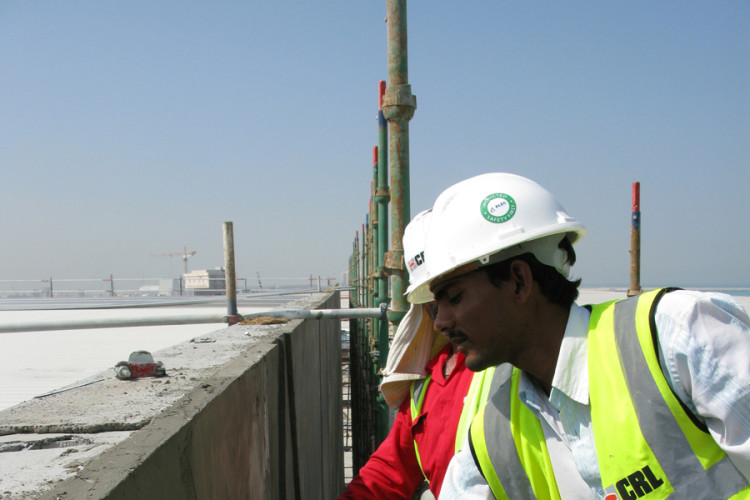 It has recently completed a series of external wall insulation (EWI) works on the Al Manara Temporary Cultural Building and Gary Player Golf Academy on the Saadiyat Island Complex in Abu Dhabi to help reduce solar gain, cooling costs and CO2 emissions.
Fixed to the outside face of the exterior walls of each building, the EWI system has been installed to help keep the buildings cool by improving their thermal performance. In turn, the system will help to reduce the air conditioning running costs for both buildings as a result of the reduced thermal gain.
Measuring some 8,500 square metres, the Al Manara Temporary Cultural Building is CRL's largest ever EWI contract. Installed to panels reaching up to 12 metres in height, the EWI system helps improve the insulative properties of the building whilst creating a decorative, weatherproof finish. Similar works were also undertaken on the Gary Player Golf Academy, which although not as big at 1000 square metres, required special attention to ensure its intricate detailing was preserved.
CRL Emirates has extensive experience in EWI works. An EWI application poses numerous benefits in terms of its ability to reduce a building's associated energy costs. An improved level of insulation can result in a reduction of heat loss and conversely a reduction in solar gain; a crucial consideration for the design of buildings in the region. Improved energy performance through the correct specification and application of EWI therefore helps to reduce the energy demand for cooling technology, thereby minimising the CO2 emissions from HVAC processes as a result.
Lee Quinn, CRL Emirates Regional Manager, commented, "EWI is just one area of expertise that CRL can bring to a concrete structure. Due to the exclusive nature of the Saadiyat Island Complex, we needed to ensure that the works were completed to an extremely high standard. As such, we worked closely with the clients to ensure that the EWI system was installed to a very high finish. The primary aim of the EWI installation was to help keep the buildings cool throughout the year by reducing their thermal gain. The EWI solution also helps to protect the exterior building structure from the extreme heat and corrosive nature of the sand and salt from the Persian Gulf and Arabian Sea."
CRL Emirates is a partnership between the Bin Moosa Group and Concrete Repairs Ltd. CRL Emirates brings a raft of experience, technical knowledge and skills to the Middle East, offering survey and inspection services, concrete repairs, corrosion control, composite strengthening, cladding and insulated render systems, specialist coatings, leak sealing and liquid applied membranes for roofs, podium decks and car park decks.
"The Middle East is a growing market for this type of work," explains John Drewett, Marketing Director of CRL, "With a number of buildings erected over the last decade, many are now showing the effects of the extreme environmental conditions. CRL has a long-standing and proven track record in the UK and overseas of external refurbishment and concrete repairs." 
Got a story? Email news@theconstructionindex.co.uk