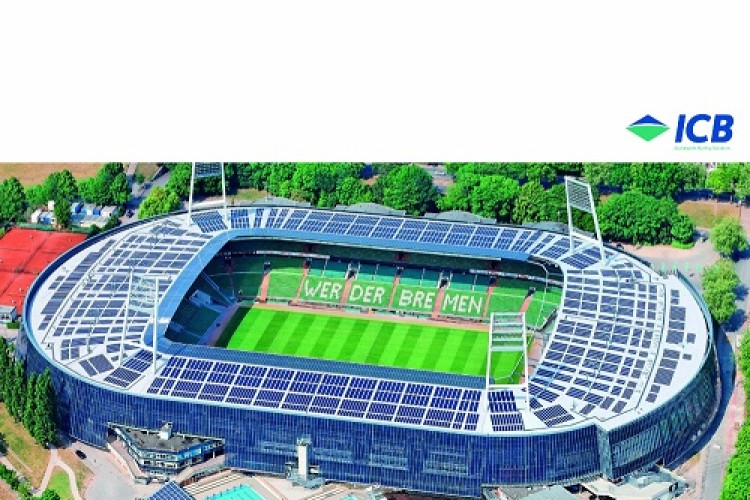 Located in the north of the country and home to football team Werder Bremen, Weser-Stadion is the latest German football stadium to improve its environmental performance following the delivery of previous 'green' sports facilities in Freiburg, Augsburg and Stuttgart.
Covering approximately 60% of the total roof area, some 1,735 Evalon Solar panels were installed around the outer ring of the new stadium roof. This provides a full capacity output of 511 kWp and contributes to the total stadium output of more than one million kilowatt-hours of electricity per year.
ICB (Solar) Ltd, a Microgeneration Certification Scheme (MCS) approved Solar PV installer, designs, supplies and installs solar PV systems from its base in Bournemouth and believes that the Weser-Stadion project could set a course for future large scale stadium installations in the UK.
Managing Director Rob Jackson commented "In Bremen, the successful combination of high performance waterproofing membranes and solar photovoltaics is the perfect collaboration of contemporary construction and energy-efficiency. The versatility and performance of the power-generating waterproofing membrane makes it ideal for modern sports facilities."

As part of a redevelopment programme at the Weser-Stadion to improve spectator experience by moving seating closer to the football pitch, the new-look stadium would also include a brand new roof. Integrating a 1.2MWp photovoltaic system into the shape and design of the building and roof – this has helped to reduce annual CO2 emissions by 450 tonnes.
Over 10,000m2 of alwitra Evalon Solar – the world's first power-generating waterproofing membrane – was installed onto the roof of Germany's Weser-Stadion to create a winning stadium for football and the environment.
Each membrane was mechanically fastened to the sheet metal roof using stainless steel screws, before being connected in the seam area using a hot-air welding process. The fastener spacing on each individual roof area was determined according to the results of a wind load survey, with the resulting data forming the basis of the fastening plan.
The project, which began in 2008 with the dismantling and reconstruction of the stadium's northern and southern stands, was successfully delivered in 2011 with the completion of the third and final phase – the installation of Evalon Solar membranes onto the eastern curved stand.
Got a story? Email news@theconstructionindex.co.uk