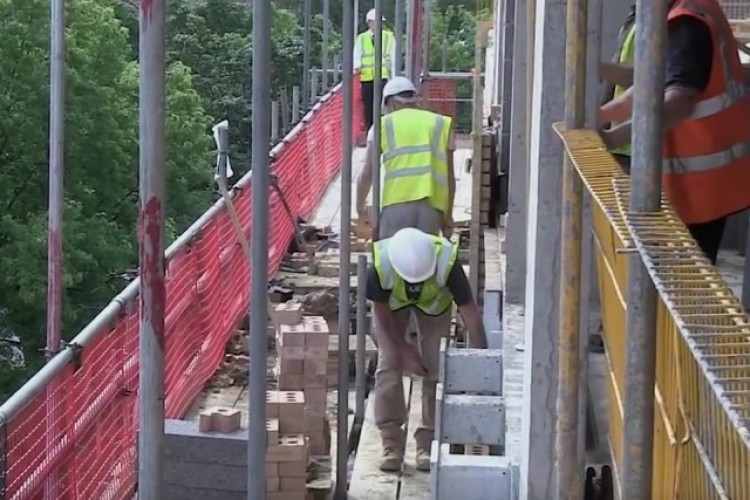 There is still no clarity from the government about Britain's access to the international construction labour pool after Britain leaves the European Union and British house-builders do not have the people they need to build out their development pipelines.
Weston Homes, for example, is on a recruitment drive for 350 new staff over the next 18 to 24 months.
Galliard Homes, London's largest privately owned residential developer, needs 120 new employees over the same time period.
Weston Homes is set to double in size over next five years. It currently employs more than 430 people but, with a £2bn development pipeline of 7,500 new homes, more employees are urgently required, the company says.
New roles to be filled include engineering, planning and design, technical, commercial and construction, and the company is looking for people with a variety of different experience levels. Around a third of the 350 roles will be site-based roles, with the balance based at the company's head office near Stansted Airport.
Some 45 staff are still needed for the company's new factory that opens in November 2018, The 75,000 sq ft facility has assembly lines and robots for kitchens, bathrooms, flooring, tiling and other home components that are put together before they are delivered to building sites.
Chairman and chief executive Bob Weston said: "Weston Homes has £297m of forward sales and we have a 7,500 unit pipeline in order to keep up with demand. For homes priced from £300 to £800 per sq ft, which is our operating area, the housing market is buoyant, with demand outstripping supply. One of the biggest challenges facing us and the wider construction industry at present is finding new staff, hence the huge recruitment drive and nationwide campaign we are rolling out over the coming months." 
Brexit is having a huge long term impact on the London and wider UK construction industry, as we go through the next economic cycle we won't get the replacement people from the EU that the construction sector has traditionally relied upon. The challenge facing construction is that the starter homes market is booming, we have hundreds of homes we need to build, this requires more staff, and with Brexit, we need young domestic UK employees to come into the sector."

"Weston Homes alone needs 350 new employees, and the other big housebuilders are in the same situation, so there's a need for hundreds and hundreds of people. The key challenge is persuading young people from the UK that the construction industry is a superb place to work. Some are dissuaded to join due to outdated perceptions of the sector. The reality is that today's construction industry offers young Londoners highly professional, highly paid careers. A top flight construction project manager in London will be a degree educated person, running a large team and earning a high six-figure salary." 
He added: "The volume housebuilder sector is booming so alongside hundreds of new employees being needed, house builders like Weston Homes are offering young people exceptional levels of training, and we are funding young people's further education courses. Our young employees are earning a salary and getting training programmes and degree qualifications, so they are working and learning at the same time, the best of both worlds, a job and a funded degree."
"In the last few years, the construction industry also transformed the working environment. Our HQ is no longer just an office, it bristles with leisure amenities, a restaurant/catering, a gymnasium, breakout areas and hospitality support staff. There's also an in-house training academy for training our people. Likewise on the construction sites, there are now smart temporary offices with internet access, new IT, showers, changing and lounge areas ¬ we need to provide ultra-smart workspaces and amenities to attract talented youngsters."
Galliard Homes chief executive Don O'Sullivan is equally worried. "Brexit has triggered huge uncertainty in the economy, and what's worse is that no one in government is advising us," he said. "Brexit will trigger an employee shortage in the construction sector as European workers won't be replaced and others may leave as we exit the EU."
Galliard has 44 projects under development with a gross development value of £4.5bn. It has 6,848 homes in development and another 5,990 homes in the planning pipeline.
Don O'Sullivan added: "Galliard needs another 120 new employees, and with Brexit looming, we decided to launch three new recruitment programmes to attract students, apprentices and new graduates, so that we can tap up young people and train them, to ensure we have big workforce so that the business can grow. Our high quality workforce and working environment will provide us with security and certainty, and therefore less exposed to Brexit headwinds. In order to appeal to young people from the UK we have acknowledged that a good career in construction is not just about good remuneration. To be an employer of choice, it's about providing them with a good office or site environment, and giving them a good lifestyle, holiday package, perks and training. We have found that domestic UK people like working for companies who are good to families, providing employment across the generations. This is why we have done outreach to families so we now employ parents, their children and contacts from across their extended families. The employment market has changed, and the construction industry is having to adapt to appeal." 
Further details about career opportunities at Weston Homes and Galliard Homes can be found at www.weston-homes.com/future and www.galliardhomes.com/careers respectively.
Got a story? Email news@theconstructionindex.co.uk