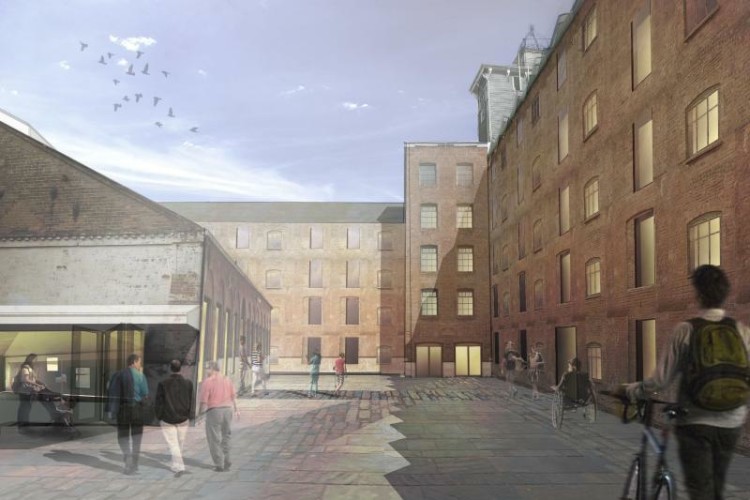 The Shropshire Council project is scheduled to be completed in early 2016, with the site open to the public by spring 2016.
Flax Mill Maltings comprises seven listed buildings including the Main Mill, which was built in 1797. As the world's first iron-framed building, it is considered the forerunner of the modern skyscraper.
The £12.8m grant will be put towards the first phase of the site's redevelopment, which will restore and bring back into a third century of productive use the Main Mill, the Kiln, the Dye and Stove House and the Office and Stables. Space will be provided for commercial and community use, including exhibition space for visitors to learn about the building's place in social and international history.
Wates was appointed as lead contractor for the redevelopment in May and since then has been working with Shropshire Council's design team to help develop the design, build solutions and cost plan for the Flax Mill.
The funding bid was submitted by a partnership of Shropshire Council, English Heritage, the Friends of the Flaxmill Maltings and the Homes & Communities Agency (HCA) in April.

Wates business manager Andy Hands said: "The past few months have been spent in close consultation with Shropshire Council to help make the vision for the Flax Mill Maltings a reality and we are now looking forward to taking these ambitious plans forward to bring the mill back to life.
"We have an excellent site team in place to begin the construction works later this year and we fully intend to engage local suppliers, sub-contractors and the wider Shropshire community in the works – making this a truly local project for local people."
Heritage Lottery Fund's West Midlands head, Reyahn King, said: "The listed buildings at the Flax Mill Maltings encapsulate the very best of British innovation and excellence in engineering and as the forerunner of skyscrapers the Main Mill is of international architectural importance. Shropshire Council's plans are now set to transform this historic site into a centre for learning, leisure and business enterprise. I can't think of a better use of Heritage Lottery Fund money than to celebrate and reuse our industrial past in such a well-thought out and exciting project."
Wates is inviting local businesses in Shropshire who are interested in being involved in the building's redevelopment to register their details at flaxmill@webshare.wates.co.uk
Got a story? Email news@theconstructionindex.co.uk