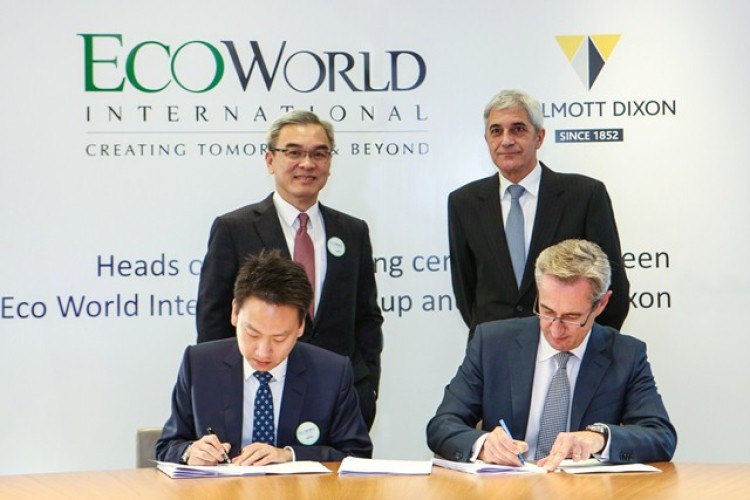 Chief executive Rick Willmott said the deal enabled Willmott Dixon to concentrate on its core business of contracting.
Willmott Dixon and EcoWorld have been in talks since November on creating a new joint venture that will comprise of Be Living's land assets. [See our previous report here.]
Under the transaction, EcoWorld International also acquires a 70% equity stake in a JV management company for existing assets as well as new development opportunities in London and the southeast. 
The management company consists of Be Living's existing development team, led by chief executive Andrew Telfer. 
Be Living was demerged from Willmott Dixon in a restructuring in 2016 specifically designed to bring in development finance in this way.
A number of Be's development schemes transfer immediately into the new JV with the balance of current schemes transferring in as they gain planning consent and land becomes secured. 

The deal has the potential to increase EcoWorld International's UK presence fourfold by giving it access to a land bank of approximately 6,700 residential units with a project gross development value (GDV) of at least £2.5bn.
Willmott Dixon group chief executive Rick Willmott said: "We are delighted to have concluded this agreement; it's the culmination of our long-term strategy to inject fresh expansion capital into Be Living that can be used to support our growth aspirations for that business.
"EcoWorld is an excellent partner who shares not only our aspirations for Be Living but also our philosophy and culture, particularly in relation to the importance of people, customers and quality of product.  They also bring significant additional residential development expertise, as well as an impressive sales pipeline into important Asian markets. I know with the strong backing of both EcoWorld International and Willmott Dixon, Andrew and the Be Living team have a terrific platform to create a strong business.
"For Willmott Dixon, this transaction allows us to focus our resources on our core contracting activities which continue to perform at a high level, with an excellent pipeline of high quality work stretching into 2019 and beyond."
Dato' Teow Leong Seng, president and chief executive of EcoWorld International, said: "The completion of the stage one acquisitions marks the start of a new era for EcoWorld International in the United Kingdom. Going forward, we are well positioned to grow our UK business strongly to meet both local and international demand in the traditional open market sale subsector as well as rising institutional demand in the built-to-rent subsector. We are very excited to be starting our journey with our new partners Willmott Dixon and Be Living."
Be Living has more than 7,000 homes on site or pending development, with more schemes at planning stage. Its activity in London includes: working with London Borough of Hounslow's Lampton 360 subsidiary to deliver 1,500 homes; leading the 1,176 home regeneration of Aberfeldy Village in Tower Hamlets; and working as Brentford Football Club's development partner for its 17,500 seat stadium and 900-home master plan. 
Got a story? Email news@theconstructionindex.co.uk