A critical look at trading conditions in the piling and ground engineering sector can tell you a lot about what to expect from other sectors of the industry a year or two down the line.
Foundations specialists are among the first to get to work on the serious business of construction once planning and finance have been sorted out and so the level of activity they enjoy sets the tone for steel and concrete frame contractors, cladding, fit-out, M&E and all the rest.
Going by our analysis of the latest financial results from the UK's top 20 piling and ground engineering contractors, it's hard not to conclude that growth – in terms of the total value of work coming on stream – is slowing to a crawl.
Combined turnover of the top 20 piling contractors in the period under review (2016/17) was just under £853m, only 4.4% more than in the previous 12 months, when turnover reached almost £830m. It's still growth, but it's a lot weaker than the 13.1% growth in turnover recorded last year.
The good news, however, is that as a sector piling contractors appear to be operating more efficiently; profits have increased significantly overall with an average margin of 5.7%, a big improvement on last year's average of less than 2%.
The dominant player in the market – and by a huge margin – is Laing O'Rourke subsidiary Expanded, which reported revenues of £284.3m in the year to April 2017. And while this was only a 1.1% improvement on the previous year's performance, the company made a pre-tax profit of £10.2m, a welcome turnaround from the previous year's £13m loss.
The parent company's characteristic reticence means that it gives little away in terms of commentary on its constituent parts. Expanded's results, filed at Companies House tell you little about why turnover has grown so little but profit increased.
This is because Laing O'Rourke's directors "manage financial risks for the Group as a whole, rather than as individual entities. For this reason, the Company's directors believe that analysis of the Company's risks should be viewed in the context of the Group".
By this token, Expanded should be doing more work but making a loss, as this is what its parent has done for the past two years.
In terms of turnover, there's a huge gap between Expanded and the second-largest geotechnical specialist, Van Elle, which recorded a turnover of £94.1m in the year to May 2017. Profit, however, fell slightly from £10.7m to £9.3m.
The company's directors described these 12 months as "transformational" in the development of the company because it was during this period that Van Elle joined the Alternative Investment Market (AIM) of the London Stock Exchange. The listing gives Van Elle access to equity capital to fuel growth and, according to the directors, has "enhanced governance and improved discipline".
In recent years, Van Elle has targeted the rail infrastructure market and now considers itself "one of the sector's leading on-track ground engineering specialists". Investment in plant, equipment and premises has increased, with a new test track located at the firm's Kirkby-in-Ashfield site and a new factory, office and maintenance depot in Blantyre, near Glasgow.
Van Elle spent £11.8m on new piling rigs during 2016/17, bringing the number of rigs in the fleet to 111. It also invested in a new purpose-built training academy which was completed last summer.
Last year, Bachy Soletanche was hard on the heels of Van Elle, with revenues of £81.4m. This year, it has fallen back to sixth place on the table, with turnover down nearly 15% to £69.4m. This, says the company, is primarily due to the completion of a major project; it points out that profits have improved (to £4m, from £2m the year before).

Bachy Soletanche reports a healthy current workload, with a good share of work on the Thames Tideway project, and says that its priority is to ensure an increasing workload by providing "the best technological solution at the best value for the client".
However, the company also makes a point of saying that it won't buy work and that "non-payment of client debts" is a significant risk: "The Company regularly monitors the financial health of its clients to ensure bad debts are not a significant issue".
Bachy's sister company Roger Bullivant (both are owned by the same French parent, Soletanche Bachy) maintained its fourth-place position on the table, though turnover decreased very slightly to £76.4 (2017: £76.9) and profit fell from £5m to £4.3m.
Bullivant relies heavily on the house-building market and continued growth in this sector has helped the company steer a steady course. Nevertheless, competition is fierce, says the company and this, combined with a chronic skills shortage and uncertainty over Brexit, is identified as a significant threat.
The UK's third-biggest piling contractor, Cementation Skanska, reported robust financial results for the 12 months to January this year. Turnover was up 22% to £87.8m and the company made a pre-tax profit of £4.8m – up from £1.8m in 2016.
But despite this, Cementation's 350 employees are now on tenterhooks following the announcement last month that its Swedish parent had put the business up for sale as part of a global restructuring. Gregor Craig, Skanska UK's president and chief executive, said: "We have a stable business in the UK, with a strong balance sheet, and this intended divestment is fully aligned with our business strategy going forward."
At the time of going to press no buyer had been found for Cementation. But, meanwhile, another top 20 piling company has already changed hands this year. Aspin Group, which specialises in the rail sector, was bought out of administration in March by US private equity firm Sandton Capital Partners.
Aspin's most recent figures show that turnover increased from £37.8m in 2015 to £43.7m the following year. And while pre-tax profits slipped from £5.2m to £1.8m, this was largely due to a drive to expand the business into new sectors outside Aspin's core rail infrastructure market.
However, Aspin suffered severe cashflow problems last year and had already brought in accountancy firm Deloitte to help find a buyer when Carillion, a major client, went down owing the firm £800,000.
Sandton has started a major restructuring of its new acquisition and says it hopes to grow the business from its current £40m turnover to £60m by 2020.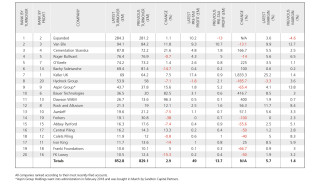 This article was first published in the June 2018 issue of The Construction Index magazine, which you can read for free at http://epublishing.theconstructionindex.co.uk/magazine/june2018/
UK readers can have their own copy of the magazine, in real paper, posted through their letterbox each month by taking out an annual subscription for just £50 a year. See www.theconstructionindex.co.uk/magazine for details.
Got a story? Email news@theconstructionindex.co.uk