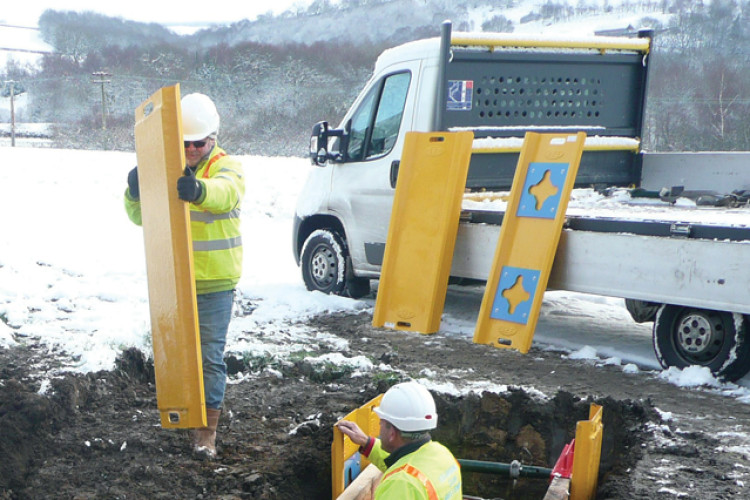 How many office hours have you wasted watching gruesome YouTube videos – you know: Crane Accident Compilation 1–50 and Digger Fails #102 - and then resolved to actually do something to prevent the sort of not-so-hilarious mishaps they depict?
No? Well at least one person has:
"I was viewing footage of trench collapses on YouTube while having a conversation with my son Oliver…I just happened to mention that there were more people being injured and killed in relatively shallow trenches rather than deep ones, to which he replied 'how can that be?'"
That's Glenn Wood, erstwhile labourer, former safety rep and now the man behind EZE Shoring, a new product designed specifically to guard against those under-estimated shallow trench collapses. Wood's background is in neither business nor engineering, and yet he is well qualified to appreciate the market for such a product.
"I started out as a labourer with Murphy's, working on high-pressure gas pipelines and utilities contracts. It was all about excavation. Then I joined JN Bentley, again working in excavations, mainly landfill sites," explains Wood. By the time he started working on what would become EZE Shoring, Wood had moved on again and was working as a health & safety advisor with a leading utilities contractor.
So Wood knew about the risks of trench collapses. Son Oliver, however, has no such experience. But on the other hand, he is currently completing a BTech in mechanical engineering at Stratford College in the West Midlands and he has a nose for engineered solutions.
"Oliver started looking at the various ways of preventing trench collapses – timber shoring, 'Vertishores', hydraulic rams, sheet piles and trench boxes – all of which he thought were inadequate in one way or another," continues Wood.
"About a week later he came to me with some sketches he'd done of a board with a profile and what he called a "profusion" locating device fixed within the profile that allowed an Acrow prop's base plate to fit into it."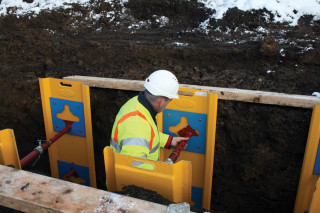 What Oliver had done was refine the common, though somewhat rough and ready, method of using horizontal Acrow screw props to support wooden boards against the side of a trench. But instead of nailing the props' bases to the boards, his system simply slotted together.
Father Glenn decided this was something worth pursuing. He started doing a lot of research, a lot of drawings and then approached an acquaintance, local businessman Richard Dudman who specialises in metal fabrications, and begged a favour. Together they produced a prototype and Dudman decided he was willing to help develop the idea, which they dubbed EZE Shoring.
By this time, Wood was fully committed to developing his product. Besides enlisting Dudman as a business partner, he'd also consulted a solicitor and started to register his design with a patent attorney.
Product development soon steered the design away from metal sheeting and towards plastics, weight being an important factor. Consulting his industry colleagues past and present, Wood concluded that ease of use is crucial in the choice of shoring for shallow trenches.
"The majority of equipment available today was described by most people I spoke to as being too heavy and at times not fit for purpose. Items get lost and buried in mud, pins and clips go missing, pumps break down, hose fittings get clogged with mud…The feeling was that these all contribute to shoring not always being installed," he says.
Field tests with his metal prototype revealed that it was still too heavy. "We started looking at plastics for environmental and recycling purposes and to see if we could reduce the weight," says Wood.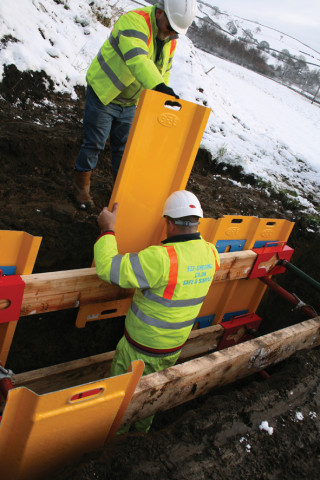 He approached a number of companies for advice, and after several false starts began to favour the idea of glass-reinforced plastic. Finally, Wood met Ben Wilson, managing director of MPM Composite Innovations, who agreed to build a GRP prototype.
Happy with the prototype, Wood then needed to establish the strength of the EZE board. He contacted Dr Clara Frias, research project manager of the Aerospace Research Institute at Manchester University's National Composites Certification & Evaluation Facility.
"After six months of testing, a full FEA (Finite Element Analysis) test was complete and we had a product that met the requirements," says Wood.
The EZE board superficially resembles a steel sheet pile, but it's the enigmatically-named "Profusion" bracket that makes the design unique. The bracket is designed to accept the base-plate of a standard Acrow screw-prop which simply slots into position and is held securely against the board. The name, besides sounding good, hints at the numerous locations that the design provides for locating the prop.
A prop can only be inserted into the bracket in one way; but once located, there's room for up to 278mm of adjustment vertically and horizontally.
The idea is certainly clever, but the acid test is whether the industry sees any benefit or not. For somebody unfamiliar with business matters, still less product development, Wood's experience of testing the market was a baptism by fire.
One of his first ports of call was a well-known hire company which specialises in below-ground equipment, including trench shoring.


"They thought it was absolutely fantastic – it'll make a fortune, they reckoned," reports Wood. But the company's enthusiasm for the product was tempered by one simple fact: it was essentially a low cost, low value product.
"They said it's not a hire product – people won't hire it; they'll buy it," Wood explains. Looking around, he realised this was correct. The nearest thing to the EZE Shoring that Wood could find was a GRP version of a proprietary hydraulic trench box – an expensive piece of kit, and ideal for the hire market. Wood's market is clearly not hirers but contractors.
Surely the obvious port of call, therefore, was Wood's own employer – a major utilities contractor. The company employed an innovation director whom Wood had already contacted with the EZE Shoring idea. He too was enthusiastic for the concept. But again there was a snag.
"When we started talking about manufacturing costs, he lost interest very quickly," says Wood. One factor might have been that Wood was not willing to relinquish the intellectual rights to the design. But the main obstacle was that the company didn't want to make the product. "They said 'we're a contractor, not a manufacturer'," explains Wood.
Although his attempts to secure the backing of a major construction name had so far yielded little, Wood had used his contacts in the industry to persuade a local house-builder, Snell Construction of Silsden, near Keighley, to help with product development and testing. "They've provided me with plant and facilities and they now want up to 40 of the boards to start trialling them on actual projects."
Then, earlier this year, Wood's fortunes took a new turn. "I resigned from (my employer) and I've got the backing of a big investor to help me take the EZE Shoring to the next stage," reports Wood.
His investor, part of a major multinational plastics company, is putting up £1 million to help fund product development and set up manufacturing. In the meantime there have already been significant changes to the product.
The original "Profusion" bracket, made from mild steel, has been replaced with a new plastic version so that both board and bracket are now lightweight plastic. And that's not all. Wood has had prototype screw props made from GRP, using advanced "pultrusion" methods, which have been tested to withstand loads of 1.5 tonnes.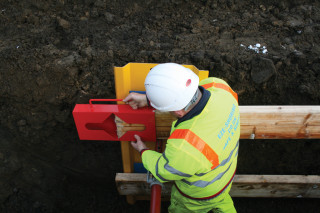 Wood now says he believes EZE Shoring is on the brink of success. Balfour Beatty Construction, no less, is understood to be a potential customer – though it won't commit until the product has been perfected and is being produced in quantity.
"Morrison Utility Services and Skanska joint venture are also interested for their Triio gas mains replacement contract with National Grid," says Wood.
It's been a steep learning curve for the former labourer, and a stressful one. Wood says he has relied heavily on family members for loans and on work colleagues for favours. "It's nearly ruined me more than once," he says.
"We've had to cut back a lot to pay for this. We don't have a lot of money but we do have a really good product," he says. "But nothing ventured, nothing gained."
At present Wood has relied on word of mouth and a Facebook page to get the message out. Marketing and promotion is not his strong suit, he concedes. But now, with a major backer behind him, Wood believes EZE Shoring will be in production within six months.
Shore thing
The EZE Shoring system is designed specifically for excavations not exceeding 2.5m in depth, and only if ground conditions allow. Inventor Glenn Wood says that this is typically the type of application where a combination of 24-Grade timber boards and steel trench props would traditionally be used.
The EZE boards are made from lightweight GRP and are available in heights ranging from 0.5m to 2.5m in 500mm increments. The profile of the 536mm-wide board is said to be unique and allows for simple layering, with adjacent boards overlapping. The boards are the same whichever way up they are, so there is no wrong way of installing them.
They also have a depth indicator moulded into the side at 100mm intervals which allows operatives to back-fill to the correct level as well as indicating trench depth.
The so-called Profusion locating device accepts the 100mm x 100mm square base plate of a standard Acrow prop. When located inside the device, the prop is held securely and cannot fall out. However, the prop can still be moved up, down and from side to side and thus positioned for clearance of any existing services or structures that may obstruct its location.
"In an excavation/trench these days with so many services present, an inch is as good as a mile," says Wood. "Having the option to move the secured prop into multiple locations can only aid the operative and the task."
The system also includes a waler Profusion locating device that slides over a 9" x 3" timber waling beam. With the device in place on the beam, a prop is then slotted into the bracket and extended to secure the waler against the trench wall.
With the timber walers in place and the red waler attachment fitted, the trench can be closed shut to stop any soil entering the working area. There is no need for hanging chains or bits of rope tied onto the timber waler to stop it falling - it simply rests on top of the prop that is fitted to the corner EZE boards.
Wood believes that his invention has the potential to change the way people view shallow trench shoring. "With this product there really is no excuse not to have the excavation shored regardless of its depth," he says. The EZE boards can be installed in pairs with spaces to suit the ground conditions; generally 1m to 1.5m spaces are advised between each EZE board. A competent person on site should advise on spacing distances.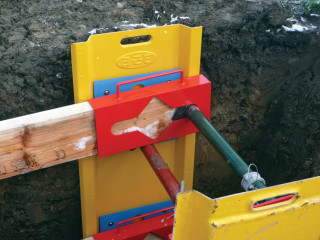 Got a story? Email news@theconstructionindex.co.uk