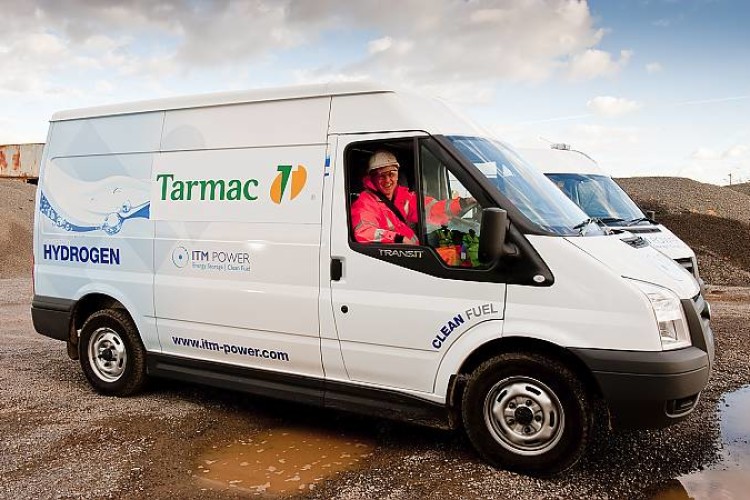 The trial is part of a research project to compare their viability and performance against petrol and electric vehicles.  
The company is working with ITM Power - the energy and storage clean fuel company - to carry out Hydrogen On Site Trials (HOST) using the firm's innovative Transportable Hydrogen Refuelling Station (HFuel), at Tarmac's Cavenham site, near Bury St Edmonds. 
Dr Martyn Kenny, Director of Sustainability at Tarmac said: "Tarmac has a long-term commitment to reducing our carbon emissions, including those from our vehicle fleet. We're proud to be leading the way by exploring new technologies, so it is important that we test the performance and viability of the latest alternative fuels, like this hydrogen vehicle. The results of this trial will help us to make informed decisions about our fleet in the future." 
Built with support from the Technology Strategy Board (TSB) and launched in September 2010, HFuel is transportable and can be connected into a renewable electricity and water supply to produce a clean fuel at the point of demand or a supply of 'green'electricity.  The fuel delivered to the vehicle is then carbon free and no atmospheric carbon emissions result from its use.
The HOST project comprises the operation and refuelling of two Revolve Technologies hydrogen Ford Transit vehicles, with hydrogen produced on site at the point of use.  
Commenting for ITM Power, CEO Graham Cooley added: "The trial at Tarmac shows how hydrogen can play an important role in transport logistics operations for the aggregates and construction industry today.
"We'd like to express our sincere thanks to Tarmac for their keen participation and enthusiasm in supporting the trial, and for the opportunity to demonstrate our HFuel proposition at an operating Tarmac facility.  We very much look forward to discussing the implications of the trial results with Tarmac."  
Got a story? Email news@theconstructionindex.co.uk