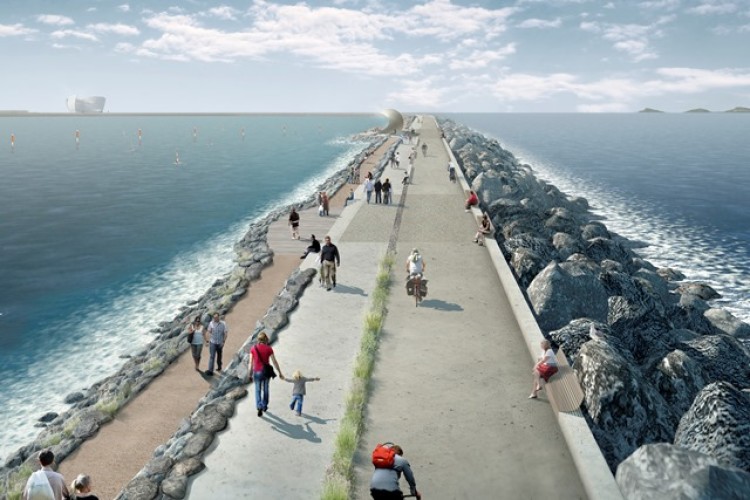 Tidal Lagoon Power wants government support to build a £1.3bn tidal barrage in Swansea Bay. It needs guarantees for the price it will get for electricity generated. Greg Clark, secretary of state of business, energy and industrial strategy (BEIS), decided last month not to support the project on the grounds of cost.
Keith Clarke said today that the numbers used to justify turning down the project were "a manifest distortion of the truth".
Tidal Lagoon has now produced an 'audit' of the Department for Business, Energy & Industrial Strategy's statement on tidal lagoons and supporting documents, delivered to Parliament on 25th June. But BEIS says it is Tidal Lagoon that has its numbers wrong.
The government's financial analysis shows that the tidal lagoon proposed for Swansea Bay is estimated to have an annual electricity output of around 0.52 TeraWatt Hours (i.e. 0.52 billion units of energy). The developer's estimated capital cost is £1.3bn. The annual power output of Hinkley Point C will be 26.1 TeraWatt Hours. The developer's estimated capital cost is £19.6bn. Using these figures, Swansea Bay's cost, in terms of capital cost pounds per unit of electricity, is £1.3bn / 0.52 TeraWatt Hours. This gives a ratio of 2.5. The equivalent figure for Hinkley Point C using the same calculation would be £20bn / 26TWh, which gives a ratio of 0.8.
Tidal Lagoon says that the Swansea Bay tidal project would have twice the life of a nuclear plant, which brings the difference down to 1.5-times higher, and subsequent larger tidal lagoons that are envisaged would have the same cost as nuclear.
BEIS said it would cost only £400m to secure the same power output from offshore wind as sourced from the £1.3bn Swansea Bay Tidal Lagoon.  Tidal Lagoon disputes this and says equivalent win power would actually cost £1.5bn.
BEIS said that the planned programme of six lagoons would cost 2.5-times more than Hinkley Point C to secure the same amount of power.  Tidal Lagoon says that if you strip out waste management and decommissioning costs, tidal power is only 1.2 times more expense than nuclear power on a whole life basis.
BEIS said it would cost £31.5bn less to secure the same amount of power from offshore wind as from a programme of six lagoons. Tidal Lagoon says that wind would cost £28.5bn more.
Tidal Lagoon chair Keith Clarke said: "Readers of the audit can and will draw their own conclusions.  Ours is that the BEIS statement on tidal lagoons was a manifest distortion of the truth.
"The audit demonstrates that the figures employed by BEIS to support its position on tidal lagoons are inaccurate by orders of magnitude, which raises serious questions about the approach taken and the conclusions drawn.
"BEIS' inaction is still holding up tidal lagoons.  The Department has not released a full and thorough value-for-money assessment for Swansea Bay Tidal Lagoon, has not responded to the Hendry Review of tidal lagoons, and has continued to ignore our requests to meet with ministers for a fuller explanation of the position and approach taken.

"This is irresponsible and obstructs our appraisal of the options available to bring further funding into the business and to work up alternate approaches for delivering a pathfinder tidal lagoon at Swansea Bay without the award of a contract for difference from the UK government".
A BEIS spokesperson said: "The Department does not recognise the company's analysis, which appears not to use accepted approaches to appraising this type of project and seems to include out of date cost comparisons. She said that Tidal Lagoon's audit appears to have used out of date costs for offshore wind. "There has been a 50% reduction in costs achieved in the most recent contracts for difference auction, and we expect further cost reductions."
BEIS also questioned the presumption of a 120-year life for a lagoon."This is optimistic as the technology is currently unproven. Independent technical advice suggests that a 50-60-year design lifetime is more realistic."
Tidal Lagoon's position is undermined by a complete lack of support today from the National Infrastructure Commission's first five-yearly National Infrastructure Assessment. The supposedly independent commission (although members are appointed by government and staff are mostly civil servants) looked ahead at UK energy need to 2050 and decided that tidal lagoons have no credible role to play. [See separate report here.]
Although the NIC recommends that a minimum of 50% of electricity comes from renewables in 2030, up from 30% today and just 12% five years ago, it regards wind and solar power as better value.
It said: "Commission analysis, carried out by Aurora Energy Research, modelled decarbonisation pathways for the UK power system, on a whole system cost basis. The modelling did not bring forward any tidal capacity as part of a cost‐effective generation mix, as other renewable technologies are cheaper. Tidal lagoon projects are unlikely to ever be economic without government support, unlike other renewables. The benefits from the predictability of electricity generation from tidal power are not sufficient to offset the higher costs imposed on consumers over the period."
Tidal Lagoon also cites Aurora Energy Research's work to support its own conclusions.
With the National Infrastructure Commission, chaired by Sir John Armitt, coming out against tidal power, the battle is open for representation as a pair of the construction industry's most venerable gentlemanly silverbacks duking it out.
Keith Clarke, an architect originally, was chief executive of WS Atkins for eight years until 2011. Before that he was UK chief executive of Skanska and its predecessor companies Kvaerner Construction and Trafalgar House Construction.
Sir John Armitt was formed by John Laing, where he trained as a civil engineer and worked for 27 years, before joining Union Railways as chief executive in 1993 to build the original Channel Tunnel Rail Link (HS1). He was subsequently chief executive of Costain for four years, then Railtrack, and then chaired the 2012 Olympic Delivery Authority.
Got a story? Email news@theconstructionindex.co.uk