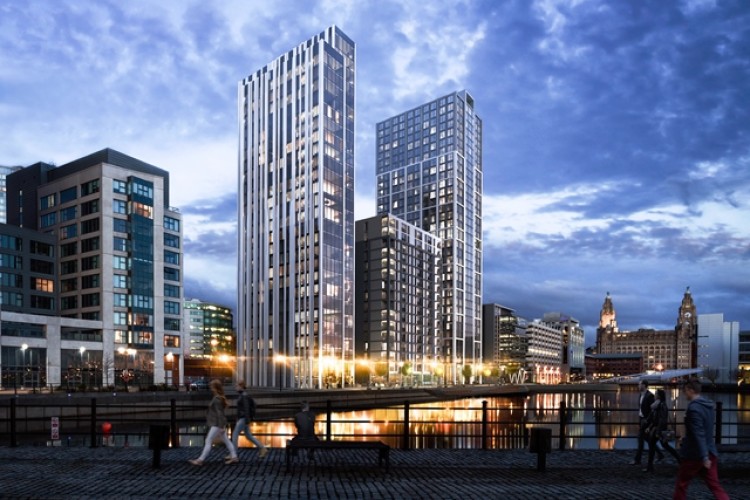 Peel Land & Property now has the go-ahead to build Plaza 1821 for the Regenda Group and Hive City Docks for Your Housing Group at Princes Dock, one of the five neighbourhoods at Liverpool Waters.
Moda Living and Apache Capital already have planning permission to build Lexington Liverpool, a 34-storey, £80m PRS tower with 304 flats at Princes Dock. [See previous report here.] Under the plans, Plaza 1821 and Hive City Docks will eventually stand alongside this.
Plaza 1821
Plaza 1821 is a £21m residential development for the private rental sector (PRS) with 105 one- and two-bedroom apartments. Plaza 1821, named after the year Princes Dock opened, will be managed by Redwing Living, a subsidiary of the Regenda Group.
Neil Baumber, development director for residential at Peel Land &Property, said: "Plaza 1821 will be a high-quality development with spectacular views of the River Mersey and the surrounding waterfront. The focus now is on getting ready for the building works and ensuring we are on site as soon as possible."
Martin Davies, director of development at the Regenda Group, added: "We are delighted that planning permission has been granted for Plaza 1821. This landmark project for Regenda is our biggest ever single investment and an integral part of our ambitious strategy for the Liverpool City Region."

Hive City Docks
Hive City Docks will have 31 floors and house 278 apartments for Your Housing Group with amenities including a restaurant on the top floor. It represents a £55m investment and is expected to take two years to construct.
John Cogbill, chief operating officer at Your Housing Group, said: "This is fantastic news for the city of Liverpool. It's great to see Peel's Liverpool Waters masterplan becoming a reality and that high quality new homes are being prioritised as part of the regeneration.
"Hive City Docks will be an iconic development which complements the spectacular setting. The building has been designed to meet the needs of today's rental market with world class facilities including around the clock concierge services, in-apartment technologies and a premium rooftop restaurant."
Lindsey Ashworth, director of development at Liverpool Waters, said: "Our vision is to create a waterfront for the world and these two developments will take us one step closer to achieving that. Both of these developments will deliver quality living space and places for people to enjoy to the spectacular views on offer here. 2017 has been the year when a lot of the work we've been doing behind the scenes has come to fruition and we are hopeful of more exciting announcements in the near future."
Got a story? Email news@theconstructionindex.co.uk