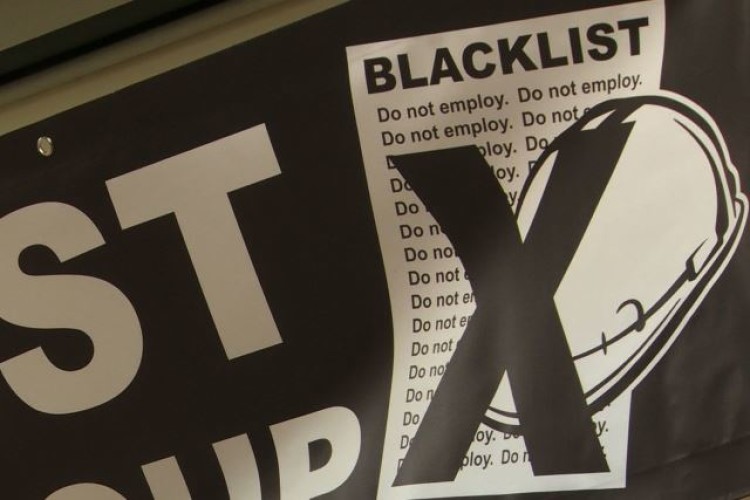 The litigation is expected to force four of the ringleaders to give evidence in court for the first time, the union said.
The high court case for unlawful conspiracy is against David Cochrane, Cullum McAlpine, Danny O'Sullivan and Stephen Quant. They were the four successive chairmen of the Consulting Association. Twelve companies are also cited in the new round of litigitation.
Cullum McAlpine and David Cochrane were the first and last chairmen of the Consulting Association and both were employed by Sir Robert McAlpine. Danny O'Sullivan was employed by Kier and Stephen Quant worked for Skanska.
The action is part of a wider case being brought by Unite on behalf of more than 70 construction workers who were blacklisted by the Consulting Association, which was acting on behalf of several major contractors. These cases are for breach of privacy, defamation and for Data Protection Act offences.
As part of the legal action proceedings have also been issued against: Sir Robert McAlpine Ltd, Skanska UK Plc, Laing Ltd, John Laing Construction Ltd, Kier Ltd, Balfour Beatty Kilpatrick Ltd, Balfour Beatty Construction Ltd, Crown House Technologies Ltd, Costain Building & Civil Engineering Ltd, Costain Ltd, Costain Oil Gas & Process Ltd and Carillion Construction Ltd.
Unite announced its latest round of legal cases ahead of an anti-blacklisting day of action and lobby of Parliament on Wednesday 6th December.
Unite assistant general secretary for legal affairs Howard Beckett said: "Unite is determined to ensure that the people directly responsible for blacklisting workers and ruining their lives are brought to justice and have to answer for their actions.
"Since 2009 the individuals who were the controlling minds behind the systematic blacklisting of workers have sought to avoid taking responsibility for their actions. The workers who had their lives ruined deserve to see the leading blacklisters in court.

"Last year Unite successfully took high court action on behalf of hundreds of blacklisted construction workers and won millions of pounds of compensation for them."
Unite assistant general secretary for construction Gail Cartmail said: "Unite will continue to lobby and campaign for justice for blacklisted workers until this disgraceful practice is ended once and for all.
"Unite is seeking justice for blacklisted workers through every avenue open to us whether that is legal, political or industrial. Whenever Unite uncovers blacklisting we will stamp out the practice and name and shame the guilty parties."
Sir Robert McAlpine issued a statement saying that it no longer used blacklisting and had changed its policy since the exposure of the Consulting Association's activities in 2009.
It said: "We have a zero-tolerance policy towards blacklisting, illegal or unfair recruitment practices and we expect all our sub-contractors to comply with this.  In addition to the steps we have taken internally to ensure zero abuses of employment rights, we have introduced a rigorous audit of our sub-contractors to ensure they all fully comply with our HR policies. Organisations in breach of any of our policies are immediately removed from our supply chain."
It added: "We have introduced a strict policy around the use of recruitment agencies and only permit employment through agencies that are on our preferred supplier list (PSL).  To secure a place on our PSL, a recruitment agency must demonstrate – and evidence – that it complies fully with all national and international regulations and laws including modern slavery and anti-blacklisting legislation and, specifically, the Employment Relations Act 1999 (Blacklists) Regulation 2010. Every recruitment agency on our PSL has provided us with copies of its polices around modern slavery and the Employment Act of 2010 (blacklisting).
"Blacklisting in construction was, until 2009, an industry-wide issue – most of the largest British construction companies in operation today were involved in the past when there was no legislation in place to outlaw the practice.  Sir Robert McAlpine has admitted to, and apologised for, its past involvement and has paid compensation to affected workers. 
"We were a founding member of The Construction Workers Compensation Scheme which was established to provide affected workers with easy access to compensation and, despite this being an industry-wide problem, we were one of only eight companies that apologised and paid financial settlements to workers through the High Court."
Got a story? Email news@theconstructionindex.co.uk