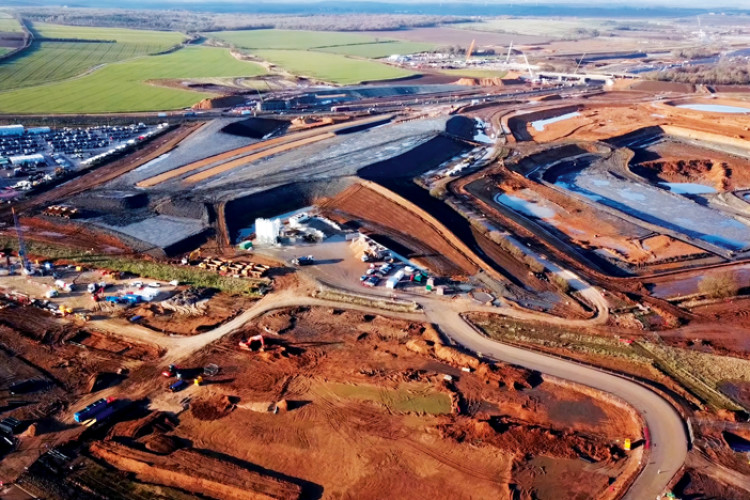 One of the biggest infrastructure projects currently under way in the UK is the £1.5bn upgrade of a 21-mile stretch of the A14 trunk road between Huntingdon and Cambridge.
The scheme is divided up into five sections and is run by an 'Integrated Delivery Team' (IDT) comprising Highways England, its designers Atkins and CH2M, and two Tier 1 joint venture contractors, Costain/Skanska and Balfour Beatty/Carillion. The latter is now simply Balfour Beatty, for well-publicised reasons.
Three of the five earthworks packages which, at around £60m, represent over 65% of the total value of the scheme's earthmoving requirement, were won by south Wales-based Walters Group. Walters triumphed following an exhaustive pre-qualification and tendering process against competition from eight other leading earthworks contractors.
Winning the contract was the culmination of several years' work by the company. Walters had originally prepared documents on a consultation basis for a Costain/Skanska joint venture almost 10 years ago when design work on the A14 project commenced under the last Labour government.
In 2010 the scheme was shelved following the incoming Conservative administration's Comprehensive Spending Review and remained dormant for several years before being revived once again in 2015.
"Just over two years ago, we went in again as a consultant under ECI [Early Contractor Involvement] and re-tendered for the contract," says Walters managing director Colin Chambers.
Walters had the potential advantage of having worked with all four of the IDT contractor members on previous civil engineering projects. The firm has a particularly good track record with Costain, having helped deliver two major road improvement projects recently (the £140m Heysham Link in Lancashire and the £233m A465 Heads of the Valleys upgrade in south Wales, pictured below left) not to mention extensive earthworks on the Second Severn Crossing approach road in the early 1990s.
Notwithstanding its track record, and despite its prior involvement in the design process, Walters found that the bidding process for the A14 project started again from scratch, the scope and outline of the scheme having changed significantly from the original plan.
The A14 job was a key contract for Walters, which has plans to expand its earthmoving operations and prepare itself for even bigger projects currently in the pipeline – HS2 in particular. The A14 improvement scheme is not just the biggest road project currently underway, it is also an exemplar for major infrastructure procurement practices.
The bidding process started in early 2016 with a thorough and wide-ranging pre-qualification exercise. Besides the essential technical, logistical and pricing factors involved in the tendering process, the Integrated Delivery Team delved deep into the behavioural culture of each bidder.
"It's increasingly common among Tier 1 contractors to include a thorough behavioural assessment of the supply chain," says Chambers. "You're assessed not just on how you propose to do the work, but on how your bidding panel behaves; how you answer questions, how you behave towards each other. They're looking for evidence of a strong team that functions well," he says. "The big thing is capability: 'can this team deliver?'"
The earthworks contracts were awarded on a 70% quality, 30% cost basis, the quality element focusing on the factors of safety, health, environment and wellbeing (SHEW), 'legacy' and stakeholder benefit.
Walters won the bulk of the earthmoving workload, the remainder of the earthworks being awarded to arch-rival CA Blackwell. Rivalry between the two earthmoving specialists was nevertheless confined to the initial bidding process; they now work closely together, says Walters' director Kevin Llewellyn: "We are working for the same client on adjacent sites so naturally we collaborate. In fact we also worked closely with Blackwell during the consultation period, pre-tendering," he says.
The three sections for which Walters has responsibility extends eastwards from the western extremity at Brampton towards the East Coast Mainline, then across a green-field site where the new A14 passes to the south of Huntingdon and the village of Godmanchester before linking up again with the existing A14 on the approach to Cambridge.
The off-line section – Section 2 – is especially demanding from Walters' perspective: it is long, it covers previously undeveloped land and there is a huge amount of archaeology to excavate before any major muckshifting takes place.
More than 200 archaeologists are currently working on the scheme and so far they have unearthed more than 25 settlements including Iron Age, Roman, Saxon and Mediaeval villages.
"We were in early to free-up ground and remove overburden for the archaeologists," explains Llewellyn. But inevitably, some of the discoveries along the route have delayed progress and Walters has found itself unable to access the borrow-pits which provide some of the 10 million cubic metres of material needed to build the road, delaying progress on other sites along the route.
"We've got a bit of catching-up to do but all the archaeology will be completed by the summer and it hasn't created any real problems," says Llewellyn. "The biggest challenge here is just the sheer volume of material. The Section 2 hauls are very long," he adds.
The A14 upgrade is indeed Walter's biggest single earthmoving contract to date – although in terms of sheer volume of material to be shifted, the company has undertaken more ambitious projects in the mining and quarrying sectors.
The company's founder Gweirydd 'Dai' Walters started out in the 1960s as a plant fitter – later plant manager – for contractor Wimpey at the Maesgwyn opencast coal mine in south Wales. When he launched his own company in the early 1980s, opencast mining remained a core activity, though Walters quickly branched out into bulk earthmoving and civil engineering.
"Today, we basically operate on two levels: we're an earthworks contractor operating throughout the UK and then we're a civil engineering contractor operating mainly in south Wales," explains Llewellyn.
And although the decline of the UK coal industry has seen Walters' mining activities dwindle, it still provides extensive load-and-haul services on a contract basis to the quarrying industry, notably for Aggregate Industries at its Bardon Hill quarry in Leicestershire.
"We've always undertaken civils contracting, though mostly on a local basis; we tender for most Welsh government contracts," says Llewellyn. In terms of growth, civils offers plenty of opportunity for Walters, he says, and the company is currently nearing completion of a new office and plant maintenance depot at Avonmouth, near Bristol.
Nevertheless it is in the core business of bulk earthmoving that the company sees most potential for growth in the foreseeable future. One of the factors that helped secure the A14 contract is Walters' extensive in-house design capability.
"We employ our own highways design engineers and we're at the forefront of volumetric analysis, carrying out our own horizontal and vertical alignment calculations," says Llewellyn. "Having our own in-house design capability has helped us with early contractor involvement [ECI] contracts; it allows us to be proactive and to value-engineer solutions for our clients".
Llewellyn says that keeping abreast of technological developments is essential. The company's 600-plus fleet of machines averages less than three years old and many are fitted with the latest machine control systems. "GPS, telematics, smart compaction – we can produce an awful lot of real-time information these days. But the trick is in how you use it," says Llewellyn. "We're constantly trying out new ways of using live information to make the earthmoving process more efficient."
Needless to say, Walters currently has its eyes well and truly focused on HS2 – the biggest earthmoving challenge for a generation. The main contracts for Phase 1, valued at £6.6bn, were awarded last year and Walters MD Colin Chambers is eagerly awaiting tender notices for the first earthmoving packages. "Phase 1 of HS2 will be equivalent to four A14s," he says.
"Over the past 18 months we've met with all the major players. We know what contracts there are and we know the potential size of them. And we also know who we'll be up against," says Chambers.
Training and skills
Faced with the prospect of a worsening construction skills shortage, the A14 Integrated Delivery Team has made training and recruitment a priority on the project.
In January 2017, Huntingdon-based West Anglia Training Association set up a Highways England-sponsored academy offering pre-apprenticeship courses for local jobseekers.
And this month, Walters is opening its own dedicated on-site training centre, located on a section of the works adjacent to Brampton Hut services.
So far, Walters has experienced no difficulty recruiting machine operators; it directly employs all of its drivers and with the completion of other contracts coinciding with the start of the A14 scheme, many simply transferred across.
"Last summer we had enough guys; but we've got a big year coming up," says managing director Colin Chambers. The company is now actively working with local schools and colleges to attract new recruits.
The A14 upgrade
The £1.5bn A14 upgrade project is the first to be tendered under the Collaborative Delivery Framework, Highways England's procurement vehicle launched in 2014 to procure £5bn-worth of motorway and A-road improvements over a five-year period.
The project will upgrade 21 miles of the A14 trunk road, adding capacity and cutting approximately 20 minutes off journey times. It includes a new southern bypass for Huntingdon, widening of the A1 between Brampton and Alconbury, widening the existing A14 between Swavesey and Milton and improving the junctions at Bar Hill, Swavesey, Girton, Histon and Milton.
The detailed design of the whole scheme was awarded to Atkins CH2M joint venture in June 2015. The first construction contract, comprising two construction packages for the new bypass, was also awarded in June 2015, to the Costain/Skanska joint venture.
In September 2015 the second construction contract, comprising the widening of the existing A14 from Swavesey to Milton, was awarded to the Balfour Beatty/Carillion joint venture. A third contract, for the demolition of the viaduct over the East Coast Mainline at Huntingdon and associated works, will be tendered in 2019.
The majority of the funding is provided by the government with a contribution of up to £100m from local funding partners. This will be paid over a 25-year period beginning in the scheme's year of opening.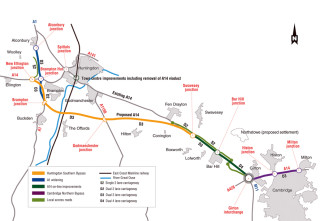 Plant fleet
Walters has one of the largest dedicated earthmoving fleets in the UK, with a current inventory of over 600 machines.
Four years ago the company acquired Bristol-based Gorrel Equipment, a leading materials handling specialist with a fleet of more than 150 machines (mainly wheeled loaders) serving the ports, recycling and aggregate sectors.
Few of the machines in the Walters fleet are more than three years old: "It's all new kit and we're always investing," comments Walters director Kevin Llewellyn. Most of the leading manufacturers are represented, including Caterpillar, Hitachi, Komatsu and Volvo; the company doesn't have any preferred suppliers, says Llewellyn.
Currently, the fleet includes:
• Hydraulic excavators from 8 tonnes to 300 tonnes, plus specialist attachments;
• Articulated dump-trucks from 25 tonnes to 50 tonnes capacity;
• Rigid dump-trucks from 40 tonnes to 100 tonnes capacity;
• Dozers ranging from 16 tonnes to 50 tonnes
• Wheeled loaders from 10 tonnes to 100 tonnes
• Self-propelled compaction equipment, graders and auxiliary equipment including fuel and water bowsers.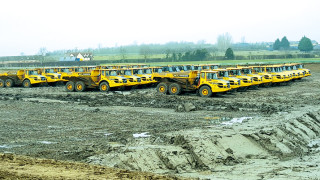 Carillion fallout
The A14 upgrade project is one of three major roads schemes being undertaken by Balfour Beatty in joint venture with Carillion. The other two are the Aberdeen Western Peripheral Route and the M60 Junction 8 – M62 Junction 20 scheme.
As a joint venture partner, Balfour Beatty is contractually obliged to complete these contracts and in a statement circulated last month said that it "will continue to work with its customers and will meet its contractual commitments".
Balfour Beatty, which has itself only recently returned to profit following a £300m loss in 2014, expects the collapse of Carillion to cost it somewhere between £35m and £45m in 2018.
This article was first published in the February 2018 issue of The Construction Index magazine, which you can read for free at epublishing.theconstructionindex.co.uk/magazine/february2018.
UK readers can have their own copy of the magazine, in real paper, posted through their letterbox each month by taking out an annual subscription for just £50 a year. See www.theconstructionindex.co.uk/magazine for details.
Got a story? Email news@theconstructionindex.co.uk