The £1bn project intends to overhaul Havering's entire public housing stock, replacing the council's current stock of 856 homes with 3,112 homes of mixed tenure.
The number of general needs rented homes will increase from 414 to 694, while the total number of affordable homes will go from 595 to 1,186, doubling the current offer.
Demolition work is expected to start before the end of 2019.
Wates will be investing 50% of the capital required to deliver the schemes. The council will put up its share of the funding from its housing revenue account (HRA). There is also £33m in grants from the Greater London Authority for those estates that meet the threshold of having 40% of the homes designated as affordable.
The partnership is funding the creation of a Construction Academy through a partnership with Havering College and the Construction Industry Training Board. Some 165 apprenticeships are expected to be created over the life of the scheme.
All current residents have been told they will be entitled to return to their estates after the builders have moved out.

Havering Council leader Roger Ramsey said: "This is the most exciting and ambitious council home building programme in London, and I'm confident our new partner will be able to help us deliver our future vision for the borough.
"Forming this joint venture will allow us to provide high-quality new homes for existing residents and young people who want to stay in the borough.
Wates director Tim Wates said: "Wates Residential is delighted to have been chosen as the London Borough of Havering's partner on this extremely exciting project, and we look forward to working with the council as we build more than 3,000 high-quality homes over the next 12 years."
Havering is London's most easterly borough, largely just within the M25, and includes the towns of Rainham, Romford and Hornchurch.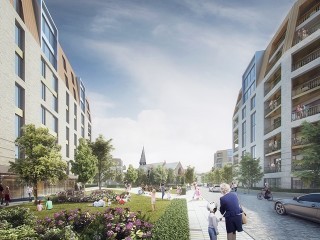 The Estate Regeneration Programme
Waterloo Estate in Romford, as part of the Romford Housing Zone.
Maygreen Crescent and Park Lane estate in Hornchurch.
Oldchurch Gardens estate in Romford.
Napier House and New Plymouth House in Rainham
Royal Jubilee Court in Gidea Park will be developed as an older persons' village.
Serena, Solar and Sunrise Court in South Hornchurch will be developed as an older persons' village
Brunswick Court in Cranham will be demolished and redeveloped as an extra care sheltered housing scheme
Two more levels of flats will be added on top of existing flats in Chippenham Road, Farnham Road and Hilldene Avenue in Harold Hill.
Four sheltered housing scheme sites will be regenerated for general needs housing, some of which may be allocated for people over the age of 50. These are: Delderfield House, Collier Row; Dell Court, Hornchurch; Park Lane, Hornchurch; and Queen Street, Romford.
The first phase of the development is due to start late 2019 on the Waterloo Estate and at Napier and New Plymouth and Solar, Serena and Sunrise. The whole project is expected to be delivered over the next 12-to-15 years.
Got a story? Email news@theconstructionindex.co.uk