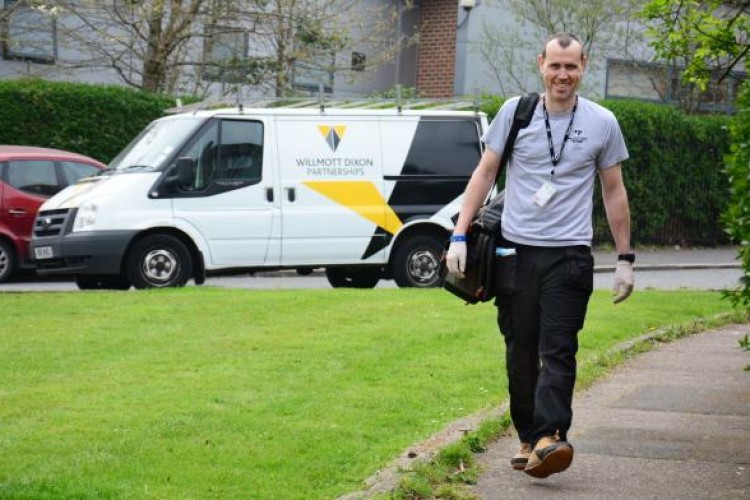 The target now is to emit 50% less emissions per million pounds of turnover than 2010, when total emissions were 18,150 tonnes and emission intensity (tonnes CO2e per £m of turnover) was at 18.3.  The goal is to cut that toll reduce that to 9.25 tonnes of CO2e per £1m of turnover by 2020.
Willmott Dixon has been assessed as carbon neutral since 2012 following a programme of internal carbon reduction projects and off-setting schemes.
Chief executive Rick Willmott said: ""Reducing the carbon produced by our operations is an essential long-term strategic aim and one that all our team are totally committed to in their day-to-day work."
Business travel and site emissions are both being targeted for cuts.


Green initiatives in recent years include a new fleet telemetry system for more efficient movement of commercial vehicles, paying over £400,000 in green bonuses since 2008 for staff choosing low emission company cars and reimbursing staff for 560,293 car share miles.
As diesel generators have been thought to emit approximately 50% more carbon than grid electricity on a construction site, a key part of Willmott Dixon's strategy has been to increase the use of temporary grid electricity supplies as well as installing electrical zoning and out-of-hours 'off' switches to minimise unnecessary electricity use.
Mr Willmott said: "There is a clear link between being commercially successful and being sustainable; cutting carbon boosts the bottom line.  As a result of implementing our previous Carbon Management Plan, we are now saving around £3m a year in fuel and energy costs.  We will shortly be issuing a new Energy and Carbon Management Strategy which will set out how we will cut carbon produced by our construction projects and other business operations by half compared with our 2010 baseline, and save us a similar amount in fuel and energy costs."
Got a story? Email news@theconstructionindex.co.uk