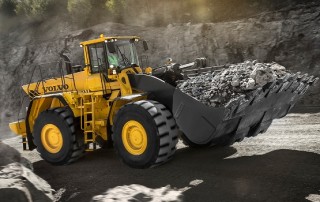 When introduced in 2007, the L350F represented a complete redesign of the Volvo wheeled loader range. Production of the updated machines began in February 2014, and the new additions complement this original design, which introduced lock-up torque converters and boom suspension for load and carry operations, as well as industry-leading maintenance access.
The new 'heavy-duty operator's seat' (and I think that's the seat that's heavy-duty, rather than the operator, but it might easily be either) offers air suspension, a high back and head rest, and can be heated. There are more seat adjustment possibilities than previously – including colour-coded height adjustment and separate adjustment for the seat cushion.
Entrance to the cab has been redesigned to allow the operator to enter the machine via steps over the rear tyre guards while the guards (fenders) swing out to give access to the lower part of the engine access doors, increasing safety in both machine operation and maintenance, Volvo says. A new engine coolant inspection door has also been inserted into the top engine access door, further simplifying machine inspection.
A new remote door opener is now standard on the L350F, operated via a button on the rear left cab post. An LED light has been installed at the cab entrance. The operator activates the light by pressing the green button next to the main switch. This entrance light stays on for three minutes to give the operator time to clamber up or down. There are also new LED travel lights.
Other design refinements include increased clearance between the rear fenders and tyres to allow for the use of chains while working.
A new 'intelligent hot shutdown system' monitors the required engine low idle duration before shut down, and advises the operator when it is safe to shut off the engine. This helps to avoid shutting down the engine when it is too hot and getting that 'hot engine shutdown' error message. This added benefit is that this increases the service life of the machine's turbocharger.
The options range for the L350F has also been rejigged. New options include long-life LED work lights and reflective stickers that follow the machine contours, increasing machine visibility in the dark. The monitor for the optional rear-view camera has been equipped with a new adjustable mounting bracket, in line with the vision of the side-view mirrors, making it easier to monitor operations from all angles.
In summary, Volvo Construction Equipment says that the updated L350F now "provides the ultimate in comfortable productivity".
Key specs:
Model

L350F

Engine

D16E

Max. power at

1,700-1,800 rpm

28.3-30.0 r/s

SAE J1995 gross

397 kW

540 hp*

ISO 9249, SAEJ1349 net

394 kW

535 hp*

Breakout force**

472.8 kN

106,280 lbf

Static tipping load at full turn

34,780 kg

76,677 lb

Bucket capacity

6.2-12.7 m3

8.1-16.6 yd3

Log grapples

5.5-6.3 m2

59.2-67.8 ft2

Operating weight

50.0-54.0 t

110,250-119,050 lb

Tires

35/65 R33 L5K

* Metric hp **Bucket: 6.9 m3 (8.6 yd3) straight edge with teeth and segments, Tires: 875/65 R33, Standard boom