Operator safety is high on the agenda for many manufacturers these days, and a worrying trend has arisen over recent years, which has seen operators being thrown out of their seats, as a result of the higher slew speeds that are often attained with modern day machines. The new restraint system can be seen during testing, in this world exclusive Digger Blog photo.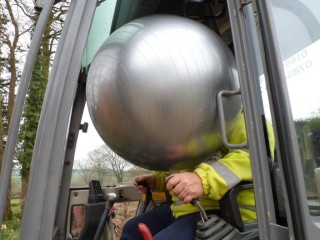 Speaking about the new restraint system, Mr Isawju Kumin, head of technology with the much respected Japanese Excavator Safety Testing Authority said, "Over recent years we have noticed that many operators are feeling the need for more and more slew speed, and in some cases they are actually tweaking the control valves themselves to obtain even faster slew cycles."
Mr Kumin continued, "This boy racer mentality is resulting in a very dangerous operating environment, and as such we have developed this new airbag system to retain the operator in his cab if the machines slew speed becomes too fast"

The Digger Blog has heard that this new system will be rolled out in all excavators rolling off the production line from April 1st 2013, and we predict that some owner's and operators are not going to see the funny side of these plans.