Bell Equipment returned to RWM to highlight how its wheeled loaders, fitted with innovative QuadCool technology as standard, can help the recycling and waste management industry to "avoid a dust-up" with their environments. I dropped by to take a look at two of the wheeled loaders – the L1506E and the L1806E which Bell had on display. Featuring long arms and Hi-Tip buckets, the machines are specified to work loading high-sided recycling bulkers.
Both models, like all Bell wheeled loaders, feature QuadCool, which is unique to Bell loaders in the UK. QuadCool combats the risk of dust build-up, in order to prevent the engine from overheating, reduce downtime and significantly reduce the frequency of cleaning routines. Below I took a look inside the L1806E..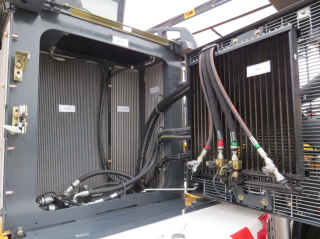 Dust and small airborne debris remains a problem for machinery working on a number of sites, not just waste. Talking with Nick Learoyd (managing director of Bell Equipment UK) he explained. "Radiators can quickly become clogged with dust, causing them to overheat. This not only requires extensive downtime to clean out the radiator, reducing productivity, but over time the dust becomes inextricably stuck to the radiator to reduce overall cooling capacity and reduce performance further," nick explained.
By compartmentalising radiator technology, incorporating fine mesh pre-filters and wide core radiators, pictured below, debris bypasses the radiators to avoid build-up and thus extend the intervals between cleaning for increased up-time. At the same time, QuadCool incorporates an automatic reversing fan, which blows any accumulated debris away from the radiators at intervals determined by the operator, for further improvements in efficiency.
The QuadCool system is also set up to provide the best maintenance access in the industry to all radiators, with panels allowing access to both sides of each radiator for easy, quick and thorough cleaning.
Alongside QuadCool, Bell is showcasing the highest "as standard" specification of any wheeled loader in the market. Machines are factory-fitted with items that other manufacturers typically include only as optional extras. Examples include the reversing camera and reverse radar detection system (pictured below) , embedded payload system and keyless start with lock-out codes for added security.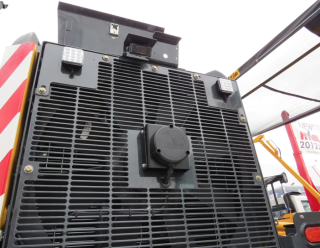 Inside also appeared to have most of the bells and whistles :-)