Anthony came across this big dozer at a recent Ritchie Brothers auction in St-Hilaire, in Quebec.
The Machine appears to have undergone a re-spray at some point, but the lack of any decent track grousers was a bit of a give away to the fact that the machine has over 4,000 hours on the meter.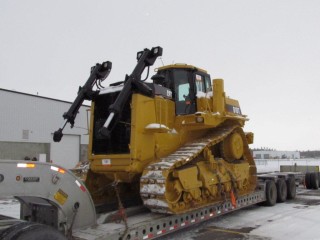 As Anthony commented "It was a nice surprise to find a dozer of this size in my locality, and even better to see it being hauled by a Kenworth W900B pulling a Cozad 3+3+2 trailer"The machine was heading for a customer in the Ontario area in Canada.