Shaun is currently working at the new Western Turner Syncline iron ore mine in the Pilbara region of North Western Australia, which started extraction operations in November this year. The mine is expected to have a capacity of 6 million tonnes per annum, with the ore being processed at the Tom Prince mine some 20 kilometres south east.
The mine is owned and operated by Rio Tinto, but the mining operations are being carried out by Perth based NRW Holdings Limited who are one of Australia's leading suppliers of services to the mining and civil resources markets.
NRW Holdings have a vast fleet of machines at work on site including this Hitachi EX1900 face shovel seen here loading one of the companies Caterpillar 777D rigid dump trucks.
The EX1900 is powered by a Cummins QSKTA38-CE engine which develops 810KW (1,086HP) and has an operating weight of 191,000 kg in face shovel configuration and 192,000 kg in backhoe set up. Loading shovel capacity is 11.0 – 15.0 m3 depending on material density, with the backhoe bucket capacity ranging from 4.4 – 12.0 m3
This spectacular shot shows NRW's Hitachi EX1900, which is in backhoe configuration loading a 150 ton class Caterpillar 785C dump truck.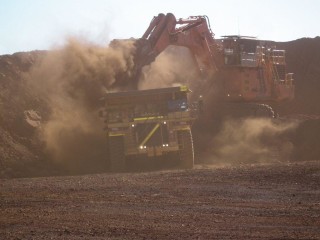 The massive cloud of dust aptly shows what a dry and arid area of the country these machines are working in. During the summer months in this region temperatures regularly exceed 32oC (90oF) almost every day and in extreme cases have been known to reach as high as 45oC (113oF) conditions which are not only tough on machines but also on personnel too.
Also deployed on site are a couple of NRW holdings, 580hp Caterpillar D10T dozers both of which are equipped with the dozer personnel access systems, which seem to be very popular in Australia, very similar to the ones manufactured by Australian company Access Innovations who are specialists in this kind of equipment.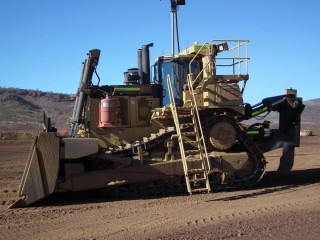 As we understand it once extracted, the iron ore product is then transferred to the Tom Price mine by massive roadtrains that are capable of carrying 300 tons at a time! The material is loaded by a Caterpillar 992K loading shovel.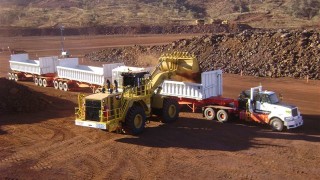 These incredible trucks are built by another Australian specialist company called Powertrans from Brisbane.
They are powered by two 600hp Cummins engines, one at the front and another in the middle. The transmission in the tractor unit is an Allison M6610 auto six speed unit, and there is an 18 speed roadranger that is computer controlled in the middle of the rig.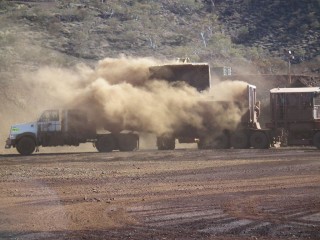 It must be an amazing sight the see these goliaths of the hauling world in action, and we look forward to seeing more updates on the Western Turner Syncline operation from Shaun in the not too distant future.