The impressive Aitik copper mine is owned and operated by Boliden AB who are one of Europe's leading players in the mining of zinc and copper materials. The Aitik copper mine, Boliden's biggest, is situated close to the town of Gallivare in the far North of Sweden and employs around 500 people. Copper deposits were first discovered here back in the 1930's but production did not start until 1968. In 2010 ore production was 27,596 tonnes and copper production stood at 67,168 tonnes. New facilities and investment in heavy modern equipment will double Aitik's yearly ore production to 36 million tonnes, and increase copper production by 50 per cent by 2014.
Peter's major reason for the visit was to see the giant P&H 4100XPC as seen in the photo above, which is the largest machine of this type to be found in Sweden. Peter was lucky to get some "stick time" on the big American manufactured machine.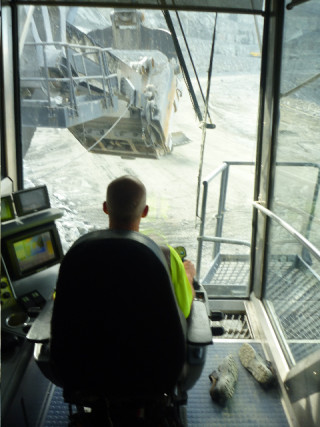 Peter found the machine to be incredibly fast for such a large machine, filling its 43 cubic yard bucket with ease, and loading the 240 ton Caterpillar 793 dumptrucks in just 3 passes. Peter found the controls difficult to get used to initially as the slew function is on the right hand lever, where on most conventional excavators it is the bucket crowd function. Peter said "the slewing was interesting too, as there is no slew brake like you have on modern day hydraulic excavators. On the P&H one has to counter rotate to get the machine to stop".
The P&H is supported on the ground by a Caterpillar 980G loading shovel which cleans up any overspill from the trucks, seen here looking like a Tonka toy from the cab of the mighty P&H 4100XPC.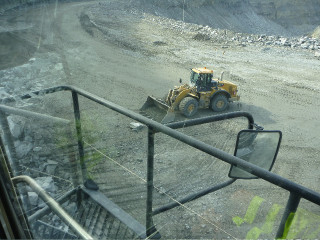 Peter spent a good 2 hours in the cab having a go on it and discussing the machine with the regular operator, before heading off to continue his tour around the mine.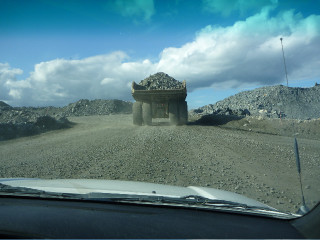 Next stop was to check out another large machine in the shape of this Caterpillar 994F. Currently Caterpillars largest wheeled loading shovel the 994F is powered by a 1600hp/1176kw Cat 3516BHD EUI engine and has an operating weight of 430782.75 lbs/ 195400kgs. Bolidens machine is fitted with a specified 24.5 cubic yard Esco bucket which enables the machine to load 240 ton Cat 793's in just seven passes!
The last stop for Peter was Boliden's impressive workshop facilities, where he witnessed some repair work on existing machines and the assembly of brand new Caterpillar dumptrucks.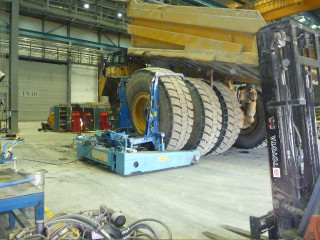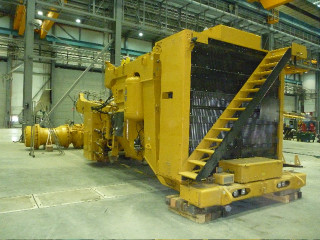 We thank Peter for sharing these photos with the Digger Blog.