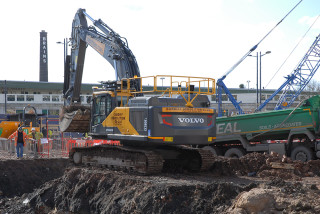 It has recently purchased a new Volvo EC380E, pictured above, rigged for secondary demolition duties.
More typical of its fleet is the Komatsu PC201LC shown in action below.
However, managing director Phil Farnham went for the EC380E this time having been persuaded by Volvo's reputation in the demolition sector and the fuel-saving claims of its 13-litre Stage IV engine.
The secondary demolition options here include: side impact protection system rails along the machine's superstructure; boom and bucket cylinder heavy duty protection guards; 'boxing ring' style hand rails and kick plates for safer access to the engine compartment; heavy duty belly plates; and an X3 proportional rotation line to operate rotating selector grabs and shears.

In addition the X1 hammer and shear circuit, which comes as standard, has been modified to operate through a proportional valve. All the attachments are picked up on a Tefra hydraulic quick hitch.