Like many of us in the industry, Graham Centini has followed in his father's footsteps as a machine driver, having started at a very young age, which as we all know and realise is the best time to learn.
Graham spent many years as a backhoe loader operator on sites in Cornwall & Devon, but over the past few years he has spent more time on 360 degree excavators.
Graham's current mount is a Case CX210B model, which he operates for Liskeard based Steve Hoskin Construction Ltd, who are large Case customers in the South West.
Graham has been very impressed with B-Series excavators, talking about his 210B Graham said "On a whole it's excellent, a real operators machine with fantastic vision and a great sitting position. I was surprised that the machine was only fitted with a 4 cylinder engine and until I first drove it I was convinced that it would not be man enough for hard digging, but any doubts I had about that are now right at the back of my mind!"
In this shot Graham's CX210B gets some TLC before the start of another shift.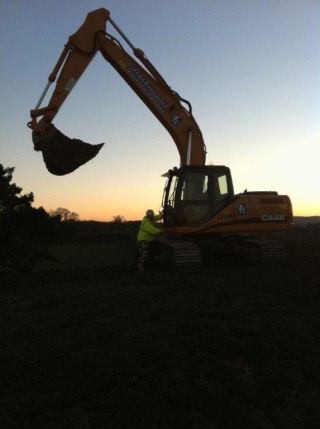 Graham continued to heap praise on his well looked after machine by talking about more of its finer qualities, "I can't believe how quiet this machine is, you can hear so much more, which is good when you have men working in close proximity to the machine. Another bonus is that the controls are so smooth and precise on these B-Series models, which is great for grading and trimming stone, that fine control makes me a very happy operator as I do get offended if any of the gang have to use their shovels!"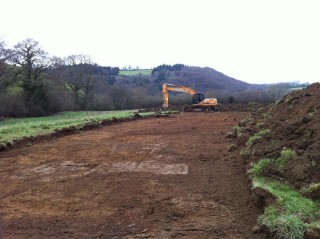 The job that Graham and his team have recently been working on is a lagoon, which is designed to take all the rain water from a new development and disperse it gently into a stream at the bottom. Topsoil strip was the first task as seen here.
Topsoil strip was followed by a level reduction and bulk dig in conjunction with 9/10 ton dumpers.

The lagoon itself sits in around 6 acres of grassland on a site in Chudleigh in Devon and measures around 80 metres long and 30 metres wide, these forms of rain water drainage are becoming more common these days, due to the overload to our conventional drainage systems.
Once the dig and shape was completed, Graham and his team got to work on the top soiling operation. Graham was helped out on this operation by one of Steve Hoskin's young operators, Joe Foster-Eaton, who was operating his Case CX130 machine. Graham describes Joe as a keen and enthusiastic operator with lots of potential, which I think is great. It's good to know that there are some good quality young operators coming through to take our places in the future.
Let's face it, with all the red tape, bureaucracy and financial costs these days, they are not making it easy for the operators of the future to learn our trade.
Once the top soil was reinstated, the team set to work on constructing a series of gabion baskets at the lower edge of the lagoon which will act as a form of water filtration.
In atrocious West Country weather, the baskets were set on a concrete base and filled with clean stone in situ.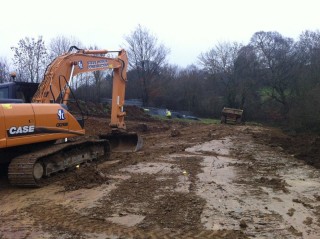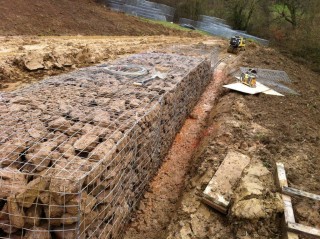 Despite the appalling weather conditions that blighted this job, I think you would have to agree the "Boys Done Good!"