The 70 tonne 360 degree back-actor is working in Fairhurst's sandstone quarry at Ravensworth, North Yorkshire where it digs out blocks of stone weighing up to 30 tonnes. The blocks are loaded into the company's own fleet of HGV's and taken to be cut into high quality York stone slabs for paving and landscaping. The machine was delivered in late May by Case dealer C J Leonard & Sons based inGuisborough, Cleveland and replaces a 50 tonne Caterpillar 345 which previously worked in the quarry.
"Basically the Cat was too light for the duties here" explains Edward Fairhurst, director of Fairhurst Stone. In search of a more suitable machine, Fairhurst approached C J Leonard, from whom the company had previously purchased Case equipment. "We already have a Case CX460 and a CX130 working at another quarry" comments Mr Fairhurst. "They are both good machines, so we wanted to see what Case could offer in place of the old Cat."
The CX700B ME weighs 20 tonnes more than the Cat 345 it replaces, but it performs like an even bigger machine. With tear-out forces of up to 224kN, extremely fast loading and a modern engine and hydraulic management, the CX 700B ME is one of the most productive machines in its class.
Fitted with a Miller Rock Bucket, the new digger will pick up 30 tonne blocks with no difficulty, says Mr Fairhurst. "The productivity is brilliant" he says, "It will move twice as much as the Cat".
Fuel efficiency is a major concern of any equipment owner, and so far the big Case excavator promises to deliver low consumption for its size. "So far it seems to be working out similar to the Cat – but of course it's a much bigger machine and it's doing twice the work" says Mr Fairhurst.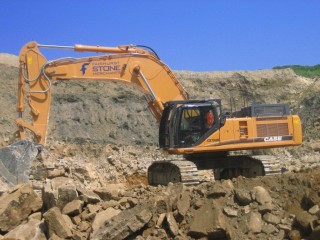 The machine, which is soon due to move to the company's quarry in Whitworth, Lancashire, works long hours and so operator comfort is also vitally important.
"The current operator liked his old Cat and to be honest he wasn't too keen when the new Case turned up" admits Mr Fairhurst. "But the CX700B ME has the new cab which is very comfortable and has excellent visibility, and once he'd acquainted himself with the new Case machine, the operator's misgivings evaporated" says Mr Fairhurst.
Operators can select from a choice of modes to suit the application: Super power mode gives speed priority when required while Heavy Working mode optimises productivity and fuel efficiency. The Automatic High Dump mode helps reduce cycle times, thereby also boosting productivity.
Safety is assured with a cab structure which is three times more rigid than previous designs. The short joysticks provide excellent control with minimal effort.
As well as low fuel consumption, the new Case CX700B ME has long service intervals (for example, 5,000 hours between hydraulic fluid changes and 1,000 hour bucket lubrication intervals) thus reducing maintenance costs and machine downtime.