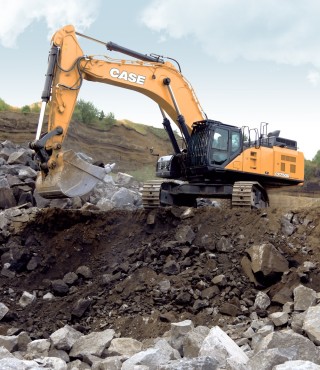 Case reports that an electronically controlled hydraulic pump and larger control and solenoid valves boost breakout forces, increase lifting strength and improve responsiveness. The Intelligent Hydraulic System with four integrated control systems make the best use of the machine's hydraulic power and momentum, resulting in added strength and fuel efficiency, Case says.
Operating at 512 horsepower, the CX750D is available in standard configuration with a 335 kN bucket digging force (with Power Boost), and mass excavation configuration with a 366 kN bucket digging force (with Power Boost). It has a shorter boom and arm that allows for greater breakout forces and is capable of handling larger buckets for added capacity.
The boom and arm, as well as the undercarriage, have all been designed to be more robust to allow for greater power and productivity, and arm and bucket cylinders are larger to help improve performance. And the machine can be operated in one of three operating modes – Automatic, Heavy and Speed Priority – to provide the optimal and most efficient use of hydraulic and engine power.
The CX750D achieves Euro Stage IV compliance through a combination of selective catalytic reduction (SCR) and diesel oxidation catalyst (DOC) technologies without the need for a diesel particulate filter (DPF).

The new cab has a fully adjustable workstation with a new high-back seat. Standard rear- and side-view cameras feed a 7-inch widescreen monitor that also displays performance parameters such as fuel consumption, operating hours and machine information. A three-camera system is available as an option.