Beaver Tool Hire, Chichester, are stopping the traffic again with a full size replica of a Yanmar SVO8-1 micro digger on their roof. From their base beside the busy A27 Chichester bypass, thousands of passersby see the sight every day.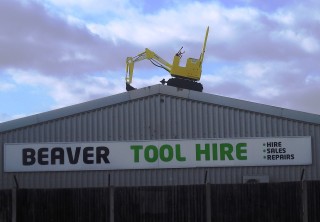 John Baggott, general manager, started putting topical things on the roof 20 years ago and they have included; 'a wheel barrow', 'general election swingometer' and 'David Blain in his cage' to name but a few.
John put the copy Yanmar digger up to celebrate their recent purchase of their 8th machine from Ammann Equipment Ltd and to see the reaction. He has already had a few comments along the lines of "did you strengthen the roof?" and "what if you have to hire it out "?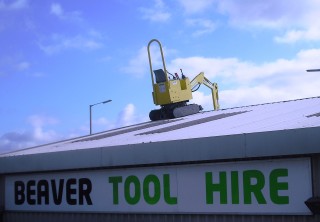 The Yanmar SV08-1 weighs in at 1035kg and with a track width ranging from 680mm to 840mm is ideal for those very narrow access jobs. The folding ROPS frame allows entry into buildings and a double acting auxiliary circuit provides the power to drive an auger or hammer.
Independently owned Beaver tool hire has now 4 depots in Sussex and Hampshire.