Michael first touched down in Perth in June, to what he describes as sunny winter weather. According to Michael there are huge amounts of groundwork's, construction and earthmoving projects happening in the Perth area at present, so after landing late on a Saturday night, Michael took his Australian excavator, bulldozer and haul trucks tickets on the Tuesday, bought a car on the Friday, sent out his CV to a number of firms on the weekend, had an interview on the following Tuesday, and started driving a Cat D6R on the Wednesday!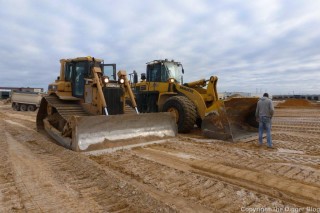 Michael's first job was working on new 60 acre industrial estate project in the North of Perth. Working through an agency, Michael is subbed out to a large civil engineering outfit, where he was spreading out sand in-fill within a massive limestone wall around the jobsite.
The ground conditions in the Perth area consists of mainly sandy material down to about 5 metres. A sandpit about 30 minutes away from the job provided a constant stream of sand in-fill material, which was hauled and delivered to site by typically Australian "side tipping" roadtrains, which can carry 55 tonnes at a time, and "super dog" truck combinations, which consist of a 8 wheeler tipper, towing an articulated trailer on a dolly which can hold 45 tonnes. Michael commented, "I was far too busy pushing out the delivered sand for the 3 Hamm compactors to roll out to count how many different trucks came in! I had to quickly learn to stay in 2nd gear all the time as the amount of sand arriving was relentless!"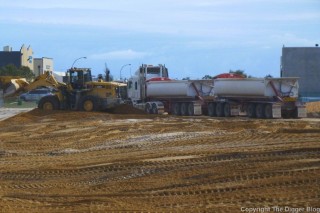 At the most intense period of the fill operation, an estimated 7,000 tonnes of sand was delivered to the site in one day! Michael and the team were pushing the sand off temporary limestone roads to a fill depth of 1.5m. Michael and his Cat D6 were assisted in the levelling duties by three wheeled loading shovels, comprising of a big Komatsu WA500, Komatsu WA470 and a Kawasaki 90. In this shot we see Michael pushing topsoil off to get down to the clean white sand.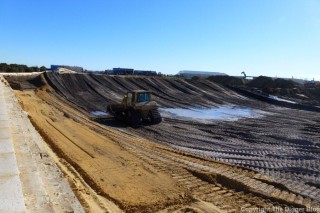 This shot gives us an idea of the scale of the job, as we see Michael pushing topsoil towards a Hitachi 350LC, that is feeding it into a screener. The finished screened product is then loaded into an awaiting Bell dumptruck by a Komatsu WA380 wheeled loader.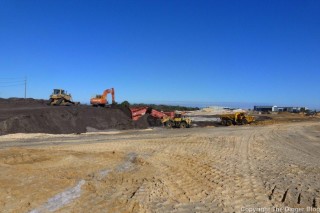 This stunning blue sky shot, shows Michael's Cat D6RLGP at rest after pushing out fill to a depth of 1m, whilst in the background yet more material is being delivered.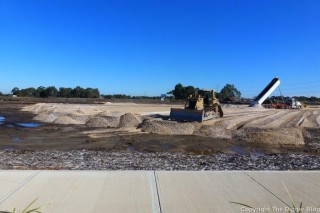 Of course being Australia it's not all about work, so on Michael's days off he does what any keen machine man would do, get out and about looking for big items of kit! It didn't take Michael long to spot this brand new Komatsu D155 dozer parked up at a dealership in Perth.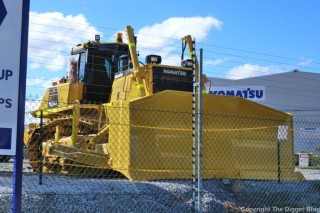 Further on in the industrial area of Perth, Michael came across this fine looking Caterpillar D10T, which he believes has undergone a nice looking respray.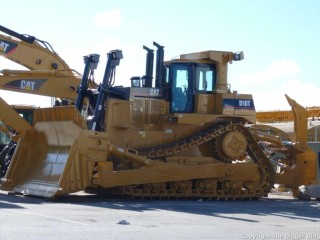 Next up and spotted from the other side of a fence at a local Caterpillar dealership, is a massive Cat based Tiger 690 wheeled dozer with its blade detached. The machine is parked up next to a Cat 330 excavator to give you some idea of the scale of this massive machine. These machines were built by an Australian company, Tiger Engineering Pty Ltd, and were based around a Caterpillar 992C wheeled loader, with modified drive trains and customised frames. The machines have proven to be very popular in the Western Australian coal mining areas.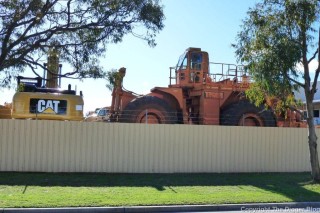 And finally in this batch from Michael, something he refers to as the "Big Daddy". This Komatsu D575A Superdozer is currently lying in a machinery yard in Perth parked next to a Caterpillar D9L.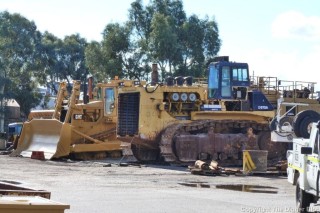 Michael has many more photos to share with us over the coming months and I for one am really looking forward to seeing and sharing them with you here on Digger.