Liebherr had an impressive outdoor stand, not quite on the same scale as Bauma, but nicely laid out. One of the big attractions for me was the R 950 SME which has a maximum operating weight of 44,800kg (98,770lbs) and has a maximum power output of 220kw (300hp). A really smart a strong looking 50 tonne class machine.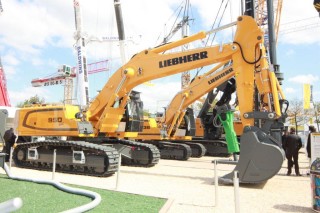 Back to the smaller end of the market now with the new 1 tonne class Terex TC10. This is the company's first entry into the micro excavator market. Narrow enough to fit through tight gateways and doors, this machine gives the small builder and landscaper another choice option when deciding what brand to purchase.
Intermat was also Hyundai's launch platform for the new and upgraded Dash-9A machines, with two models on show in this shot. The new Dash-9A machines feature new engines which are Tier IIIB compliant and offer reduced exhaust emissions and improved fuel economy, and further improvements to the operating control systems and cab layout, which to be honest I found very impressive on the original Dash-9 series. In this shot we see two models the R 260-9A and the R380-9A.
Isn't all this social media technology a great thing! Whilst I was at Intermat, I was tweeted by the team at Geith through my @TheDiggerBlog Twitter account, to go and take a look around their stand, when I arrived the guys were very busy talking to potential customers so I never got to speak with anyone, but one thing that did catch my eye was their tilting bucket assembly. These buckets have of course been around for donkey's years now, but it just made me think it might be something for those that aren't yet brave enough to go the whole hog and invest in a tiltrotator? It goes without saying that the Geith quality was well represented on the stand, I have always been a fan of their attachments.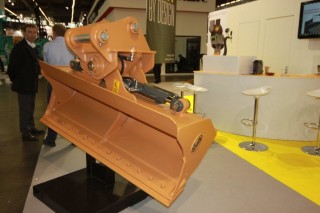 Backhoe loaders next and the latest model from Case the 580ST. The new T series of backhoe loaders are fitted with Tier 4 Interim compliant engines, automatic ride control system, a choice of transmissions and faster backhoe boom positioning. These improvements are said to offer lower fuel consumption, reduced emissions, increased operator comfort, higher breakout force and greater lift capacity. The 580ST is powered by a 72kw (97hp) engine.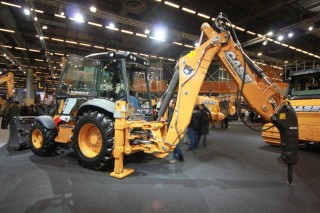 Our friends from Turkish manufacturer Hidromek also displayed one of their latest backhoe loaders. This prototype HMK 102S model is fitted with a Tier 4 Interim emission compliant engine and in addition the company's research and development team have worked even harder to further enhance the cab interior, in what from my experience was already a superb cab layout on the previous model.
Also on display on the Hidromek stand an example of the company's 14 tonne class machines the HMK140LC which was displayed fitted with the useful dozer blade assembly. These striking looking and award winning machines in their distinctive looking black &white livery, feature the Gen Series cab which features the state of the art control panel and a whole host of features to make the operating experience a pleasurable one. This would be a very popular machine for the company to enter the UK market with, but as yet the company say they have no short term plans to export to the UK. I personally would like to see them do so in the future, as their products are of good quality and a lot of thought has gone into them to make the operator's job a lot easier.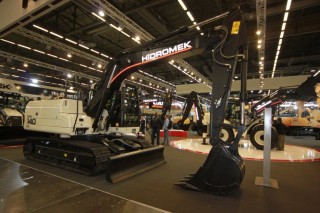 Finally from Intermat a nice looking 30 ton class machine from Case, the CX 300C.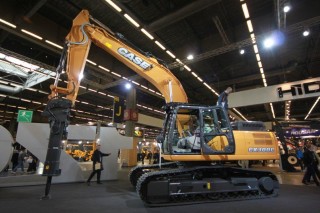 One of our readers and a big Case excavator fan Graham Centini, was wondering if the cabs on these new machines could possibly get any better than the previous B series machines, well I think Graham will be a happy man when he eventually upgrades to a new C series Case. The cab that was already a winner is now even better! Judge for yourselves..
Next stop on the show circuit for the Digger Blog will be MaskinExpo 2012 in Sweden at the end of this month. I just know I am going to be in tiltrotator heaven up there. Lookout for my report on that visit at the end of May