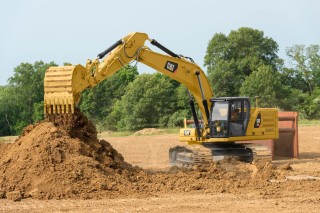 No one, to my knowledge, brings out a new excavator and declares it thirstier and more sluggish than the machine that came before. So you will not be surprised to hear that Caterpillar's latest 30-tonne diggers boast 'increase operating efficiency, lower fuel and maintenance costs, and improved operator comfort compared to previous models'.
Much of the improved performance of the Next Generation Cat 330 and 330 GC comes from the technology on board.
The manufacturer claims that its Integrated Cat Connect Technology 'increases operating efficiency by up to 45% over traditional grading operations'.
The standard Cat Grade with 2D system provides guidance for depth, slope, and horizontal distance to grade through the standard touchscreen monitor, making operators more accurate. The system is upgradable to Cat Grade with Advanced 2D or Cat Grade with 3D. Standard Grade Assist automates boom, stick and bucket movements so operators can stay on grade with single-lever digging.
With on-the-go weighing and real-time payload estimates, the Payload feature helps prevent truck over-or under-loading. The new Lift Assist feature helps the operator pick up heavy objects without tipping over. Visual and auditory alerts indicate whether the load is within the excavator's working limits.
E-fence prevents the excavator from moving outside operator-defined set points. The system is particularly useful when working beneath structures or near traffic.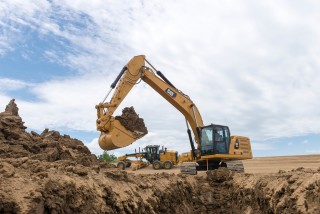 By design, Cat Next Generation excavators consume less fuel per unit of work than the models they are replacing — up to 20% for the 330 compared to the 330F and as much as 15% for the 330 compared to the 330D2, Cat says.
New Smart mode operation automatically matches engine and hydraulic power to digging conditions, optimising both fuel consumption and performance. Engine speed is automatically lowered when there is no hydraulic demand. A main control valve eliminates the need for pilot lines, reduces pressure losses and lowers fuel consumption.
The Cat 330 has a larger 6,700 kg counterweight, which enables it to lift nearly 10% more than the old 330F and up to 15% more than the 330D2. With increased swing pressure, a larger swing drive, and larger swing bearing, the Cat 330 delivers 5% more swing torque over the previous series, making backfilling and lifting on slopes easier.
With a choice of Comfort, Deluxe or Premium, all Next Generation Cat excavator cabs come equipped as standard with keyless push-button start and large touchscreen monitor with jog dial keys.
A tilt-up console for the Deluxe and Premium cabs makes it easier to get in and out. Large windows enhance visibility; optional 360-degree visibility (330 only) combines images from multiple machine-mounted cameras to enhance the operator's view in all directions.
The specs
| | 330 GC | 330 |
| --- | --- | --- |
| Engine | Cat C7.1 | Cat C7.1 |
| Gross power (ISO 14396/SAE J1995) | 204 hp (152 kW) | 275 hp (205 kW) |
| Operating weight | 30 600 kg | 30 900 kg |
| Max. digging depth (6.15 m boom, 3.2 m stick) | 7 260 mm | 7240 mm |
| Max. reach at ground level (6.15 m boom, 3.2 m stick) | 10 690 mm | 10 680 mm |
| Max. loading height (6.15 m boom, 3.2 m stick) | 6 940 mm | 6 950 mm |