One of these Newton & Frost machines is currently in use on a site I am working on in Exeter, where it is being put to work digging pits for crash barrier pans prior to concreting and other ground preparation jobs.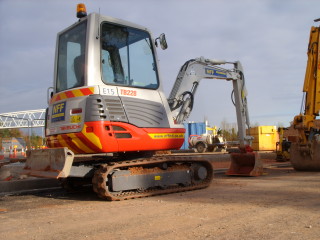 The machines which were supplied by South Coast Takeuchi main dealers CBL Ltd are all TB228 models which were the upgraded replacement for the very popular TB125.

Weighing in at 2900kg the TB228 is now in the 3 ton class bracket and feature the newly restyled and roomier cab, an MP3 socket is included as standard and more mirrors have been fitted to assist the operator's visibility.
It's no secret that I am a big fan of the Takeuchi mini/midi excavator range, they are in my humble opinion some of the finest machines on the market, as an operator I am yet to find anything that competes with the smooth hydraulic systems that are fitted to the Takeuchi machines. I have spent time on TB125, TB145, and a short spell on the superb 14 ton model the TB1140 which we had on demonstration from CBL at the Whitliegh school site in Plymouth a couple of years ago.
The reason Takeuchi machines seem to be so popular is that they have it all; speed, power, good build quality, and as previously mentioned the amazingly silky smooth hydraulic systems. Down in my neck of the woods nearly all the major utility companies specify Takeuchi and one foreman once said to me "we won't have anything else, the machines are so user friendly and we need that when working around live services in the ground"