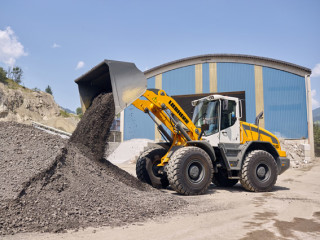 These machines are now ready for market and the Liebherr factory in Bischofshofen, Austria, will begin deliveries before the end of September 2016, they tell us.
The new L526 (7.7 tonnes tipping load), L538 (9.5 tonnes) and L546 (10.5 tonnes) meet Euro Stage IV/ US Tier 4Final emissions regs (with claimed 25% fuel savings compared to the competition). They have been redesigned with reinforced steel structures and bigger axles, with automatic self-locking differentials for improved traction.
Customers can choose between Z-bar linkage for standard applications and parallel lift arms for industrial applications.
The basic performance stats are:
Tipping load
(kg)

Bucket content
(m³)

Operating weight
(kg)

Engine output
(kW / PS)

L 526

7,700

2.1

11,250

103 / 140

L 538

9,500

2.6

13,500

114 / 155

L 546

10,500

2.8

14,200

123 / 167
But it is probably easier that I just show you these short videos – first a walk-around and then some action footage.